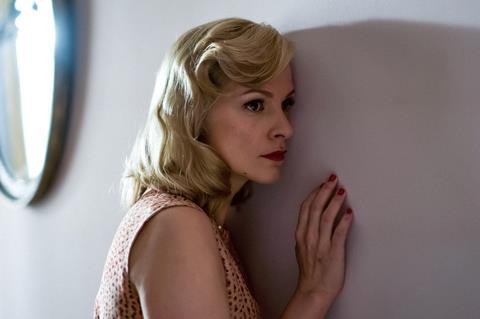 Paris-based sales company Indie Sales has added Belgian director Olivier Masset-Depasse's upcoming psychological thriller Mothers' Instinct (Duelles) to its Toronto slate.
Set in a well-heeled suburb in Belgium in the early 1960s, the film is based on Belgian writer Barbara Abel's novel Derriere La Haine, which translates as 'behind the hatred'.
Veerle Baetens and Anne Coesens co-star as next-door neighbours Alice and Celine whose fusional relationship is cemented by the friendship of their two young sons. The first image of Baetens in the film is above.
This relationship turns destructive when Celine's son dies in a tragic accident. Celine blames Alice for the death. Alice, the character of The Broken Circle Breakdown star Baetens, becomes convinced Celine wants to harm her son.
A cat and mouse psychological battle is set in motion but it is not clear who is the real threat.
The film is produced by Jacques-Henri Bronckart at Belgian company Versus Production and Carole Scotta at Paris-based Haut et Court which is also distributing in France. Brussels-based distributor O'Brother has acquired Benelux rights.
Masset-Depasse has taken inspiration from the films of Alfred Hitchcock and Douglas Sirk as well as the TV show Mad Men for the film's 1960s aesthetic.
"The team fell in love with the dark tone of this surprising script as well as the 60's aesthetic reminiscent of the Mad Men atmosphere," said Indie Sales CEO and co-founder Nicolas Eschbach.
Masset-Depasse is best known internationally for his 2010 feature Illegal, starring Coesens as a Russian woman living as an illegal immigrant in Belgium. After completing Mothers' Instinct, he is set to direct the third film in the Largo Winch franchise.
Mothers' Instinct is currently in post-production for delivery in the first half of 2018.
Other titles on Indie Sales's Toronto slate include Ziad Doueiri's The Insult and Arrhythmia, which both screen in the Contemporary World Cinema section, The Price of Success, which will play as a special presentation, and upcoming Russian sci-fi release Salyut-7, which will screen in the market.