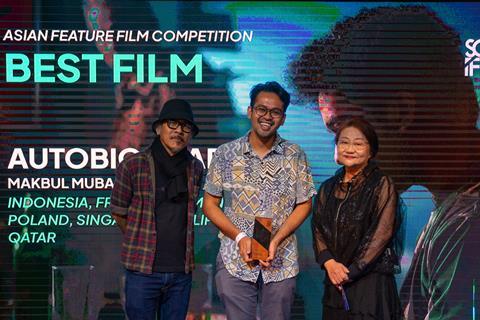 Indonesian drama Autobiography by Makbul Mubarak has won the best Asian film prize at the Singapore International Film Festival's Silver Screen Awards while Russian director Marusya Syroechkovskaya's documentary How To Save A Dead Friend picked up the audience award.
Autobiography premiered in Venice's Horizons strand in September, where it scooped a Fipresci prize, and has since won further silverware at the Asia Pacific Screen Awards, Golden Horse Film Festival and Marrakech among others. The debut feature of film critic-turned-director Mubarak is about a young man who keeps house for a retired general, finding himself torn between loyalty and justice as the mayoral election approaches. Alpha Violet handles sales.
A jury that included filmmakers Lav Diaz, Kim Soyoung, Ritu Sarin and New York Film Festival artistic director Dennis Lim praised the film as "a vivid character study, a powerful allegory of national trauma, an urgent dissection of the fascist mindset and how it persists."
Scroll down for full list of winners
A total of 14 prizes across six categories were handed out at the awards ceremony on Sunday, the closing night of the festival's 33rd edition, which ran from November 24 to December 4.
Overseas filmmakers on hand to receive awards included Taiwan's Laha Mebow, who took the best director prize for Gaga, and Thailand's Sorayos Prapapan whose Arnold Is A Model Student received a special mention.
The winning films for audience choice award, best Singapore short film, best Asian feature film and best Southeast Asian short film will be re-screened on December 10.
More than 8,000 tickets were issued for 82 film screenings and VR sessions during this first post-pandemic edition of SGIFF, which showcased more than 100 films from 55 countries over 11 days.
A special double-bill fundraiser was held with the screening of Singapore filmmaker Lei Yuan Bin's R21-rated documentary Baby Queen, which was a late addition to the festival lineup, and a live drag performance by the film's protagonist Opera Tang and her fellow drag artists.
"This year marked the full return of SGIFF. The need to showcase the diversity and richness of Asian storytelling to the world remains essential," said the festival's executive director, Emily J. Hoe. "It is my hope that SGIFF continues to foster a deeper appreciation for cinema in Singapore while growing awareness for stories and experiences from all over the world."
In addition to screenings, a series of off-screen talks and discussions were organized as a forum for the public to interact with the international filmmaking community, with guests such as Filipino auteur Lav Diaz; New York Film Festival artistic director Dennis Lim; Busan IFF programme director Nam Dong Chul; and Thessaloniki Film Festival general director Elise Jalladeau.
Silver Screen Awards 2022 winners
Asian feature film competition
Best Film: Autobiography
Best Director: Laha Mebow, Gaga
Best Performance: Zukhara Sansyzbay, Convenience Store
Special Mention: Arnold Is A Model Student
Southeast Asian short film competition
Best Southeast Asian Short Film: Vania On Lima Street (dir Bayu Prihantoro Filemon)
Best Singapore Short Film: Smoke Gets In Your Eyes (dir Alvin Lee)
Best Director: LE Lam Vien, Fix Anything
Best Performance: Bopha Oul, Further And Further Away
Special Mention: Dikit (dir Gabirela Serrano)
Southeast Asian Film Lab
Most Promising Project: A Ballad of Long Hair (dir Giovanni Rustanto)
Fellowship Prize: A Ballad of Long Hair (dir Giovanni Rustanto); and The Burning Land (dir Rein Maychaelson)
Special Mention: Every Mall Burns The Same (dir Gladys Ng)
Youth Critics Programme
Young Critic Award: Benjamin YAP Kee Siang
Outstanding Contribution to Southeast Asian Cinema Award: In-Docs
Audience Choice Award: How to Save a Dead Friend