Disney's latest posts sixth biggest UK opening for Pixar outings from an industry record release of 608 sites.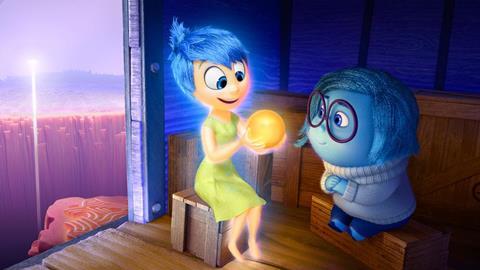 DISNEY
Receiving a new industry record release of 608 sites, Inside Out has enjoyed an auspicious start to its UK box office run.
Disney's latest Pixar outing grossed a superb $11.4m (£7.35m) as it dethroned Ant-Man, ahead of what's likely to be a lengthy run due to the school holidays and positive word-of-mouth.
In terms of Pixar outings in the UK, Inside Out posted the sixth biggest opening overall ahead of Up ($9.9m/£6.4m), but narrowly behind Finding Nemo ($11.5m/£7.38m). There's every chance it could overtake the latter when final results are confirmed later today.
Based solely on Fri-Sun takings, Inside Out ranks as the fourth biggest ahead of Monsters Inc ($10.1m/£6.5m) and again currently just behind Finding Nemo.
The last Pixar outing in the UK, Monsters University, recovered from a slow start to gross ten times its opening and hit £30m. Inside Out is unlikely to have such a multiple given its stronger start, but there's every chance it'll be the latest 2015 release to hit the £30m mark.
Also for Disney, Ant-Man fell 38% on its way to a $3.9m (£2.51m) second weekend for a ten-day tally of $14.9m (£9.61m).
In terms of Marvel outings in the UK, it's now overtaken the lifetime tallies of The Incredible Hulk ($12.8m/£8.3m) and Captain America: The First Avenger ($14.7m/£9.5m). Next in its sights will be Thor's $21.8m (£14.04m).
UNIVERSAL
As the school holidays kick into gear, Minions will shortly become the third film (and Universal's second) of 2015 to hit the £40m mark.
Universal's animated spin-off fell just 17% in its fifth weekend to take a further $3.5m (£2.26m) for a terrific $57.5m (£37.09m). It's still tracking ahead of Despicable Me 2 which had reached $53m (£34.14m) at the same stage, including two extra days of previews.
The arrival of Inside Out means Minions now doesn't have a clear run at the family market, but you still wouldn't yet rule out £50m.
Also for Universal, Jurassic World has now become the ninth biggest film of all time in the UK following a sensational seventh weekend, dropping just 12% to add $1.55m (£1m) for a monstrous $95.4m (£61.48m).
The Lord of the Rings: The Fellowship of the Ring's final UK result of $97.8m (£63m) could still be within Jurassic World's reach. Jurassic World has also delivered 5.7m admissions on the Digital Cinema Media estate, making it the busiest film since Skyfall.
Ted 2 fell 47% on its way to a $1.1m (£728,000) third weekend for $13.6m (£8.75m) to date.
ENTERTAINMENT
Landing in fourth was Entertainment's Southpaw with a strong $2.6m (£1.66m) punch from its 401 sites.
The debut marks director Antoine Fuqua's fourth biggest UK opening overall, but is his third biggest Fri-Sun result, ahead of Olympus Has Fallen's $2.5m (£1.59m). Southpaw could well prove to be savvy counter-programming for Entertainment over the coming weeks.
Also for Entertainment, Self/less fell heavily on its way to a $75,000 (£48,159) second weekend for $728,000 (£469,390) to date.
PARAMOUNT
Falling a respectable 41% in its fourth weekend, Paramount's Terminator Genisys shot to an extra $760,000 (£490,000) as it crossed the £10m mark to reach $16.1m (£10.35m).
FOX
Secret Cinema's production of The Empire Strikes Back has hit the £3m mark in the UK after eight weeks of its run with a $473,000 (£304,900) weekend.
Also for Fox, True Story fell a steep 66% in its second weekend with $46,000 (£29,386) for $446,000 (£287,307), while Home and Spy have amassed $38.6m (£24.88m) and $15.5m (£9.97m), respectively.
WARNER BROS
Into its fourth week, Warner Bros' Magic Mike XXL added $428,000 (£276,000) for $9.8m (£6.3m) to date.
Also for Warner Bros, The Gallows fell heavily in its second weekend as it could only take $183,000 (£118,000) for $1.2m (£749,000).
ALTITUDE FILM DISTRIBUTION
Scaling back to 149 sites, Altitude Film Distribution's Amy still posted a healthy fourth weekend with a non-final $371,000 (£239,000).
Asif Kapadia's critically acclaimed documentary is now up to $4.1m (£2.64m), on par with (and soon to overtake) Touching the Void as the fourth biggest non-concert feature documentary of all time.
Kapadia's Senna ($4.9m/£3.17m) and March of the Penguins ($5.1m/£3.31m) are still potentially within Amy's range.
ICON FILM DISTRIBUTION
Robert Carlyle's directorial debut The Legend of Barney Thomson enjoyed a decent $254,000 (£163,395) start from its 70 sites through Icon Film Distribution.
METRODOME
Marking director Mia Hansen-Løve's best-ever UK bow, Metrodome's Eden posted a $76,000 (£49,211) opening, including previews, from its 49 sites.
VERTIGO FILMS
Zombie drama Maggie lacked bite on its UK debut for Vertigo Films, grossing a soft $73,000 (£47,002) from its 90 sites.
CURZON FILM WORLD
Rising 12% (excluding previews) on its opening, Curzon Film World's The Salt of the Earth added $64,000 (£41,596) for $210,000 (£136,026) to date.
DOGWOOF
Including $2,900 (£1,880) in previews, Dogwoof's political debate documentary Best of Enemies recorded a $11,000 (£7,295) debut from its six sites.
UPCOMING RELEASES
This week sees saturation releases for Paramount's Mission: Impossible - Rogue Nation (opens July 30) and Warner Bros' Hot Pursuit.
eOne's The Cobbler receives a wide release, while Vertigo's Doctor Proctor's Fart Powder, Dogwoof's Iris and Altitude Film Distribution's Cub are among the films receiving a limited release.