MARCH 23 UPDATE: Lionsgate's sequel lands in 76 markets, topping the chart in 66 markets; Disney's Cinderella crosses $250m globally in only second weekend of release.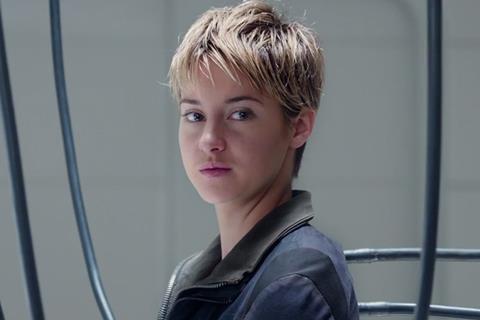 LIONSGATE INTERNATIONAL
Landing in 76 markets on 10,187 screens day-and-date with its North American bow, Lionsgate's The Divergent Series: Insurgent leads the international box office with $48.4m.
The sequel is the number one film in 66 markets and experienced strong growth against its predecessor. Based on local currency, Insurgent was 199% up on Divergent in Brazil, 122% up in France and 74% up in the UK.
Two of its strongest results came in Europe with France posting a $6m debut and the UK providing $4.4m, while Brazil and Mexico grossed $4.2m and $3.7m, respectively. IMAX screens generated $1.7m overseas.
Overall, The Divergent Series: Insurgent has taken $100.7m worldwide.
WALT DISNEY STUDIOS MOTION PICTURES INTERNATIONAL
Cinderella has crossed the $250m mark at the global box office in just its second weekend of release.
Internationally, Disney's live-action remake took $41.1m from its 45 territories for $131.1m to date. Highlights this weekend included a fall of just 30% in Italy on its way to $3.9m for $10.9m, a 24% drop in Germany for $4.1m to date and a $2.5m bow in Korea which is 38% ahead of the opening of Oz the Great and Powerful.
Cinderella fell 45% in China to lift its local tally to $52.4m and make it the second largest Disney live action release in the territory behind Pirates of the Caribbean: On Stranger Tides. While, in Latin America, Argentina led the way with a chart-topping $1.2m debut and Mexico held well to boost the running total to $10.9m.
It waltzes into France, Spain, the UK, Australia and Brazil next weekend, as well as Belgium and New Zealand.
Big Hero 6 added $5.6m in China to take its local tally to $76m, the second highest grossing animated release of all time in the market. Overall, the Oscar winner stands at $422.8m overseas.
FOX INTERNATIONAL
UPDATED: Home landed overseas with a confirmed $20.1m debut in 10 markets, with the UK providing almost half of the total with a $9.1m chart-topping bow on 1,183 screens.
Fox's animation also performed strongly in Russia with $5.2m from 2,157 screens and in Spain with $2.2m from 726, while it opened to $2.4m from 247 in Australia even if it missed out on top spot to Insurgent.
Home expands into 55 new markets next weekend.
Ahead of its China release next weekend, Kingsman: The Secret Service grossed $8.3m from its 68 markets for an overseas tally-to-date of $180.9m. South Korea continued its excellent run with a $2.7m weekend seeing it hit $39.9m, as Germany fell just 24% on its opening to add $1.3m for $3.8m.
Taken 3 charted second in China with a $17.7m bow to lift its overseas haul to $223.9m, while The Second Best Exotic Marigold Hotel earned $3.2m from its 33 markets for $34.7m to date, the majority coming from a $20.3m running tally in the UK.
Night At The Museum: Secret Of The Tomb's final international release saw a $2.7m opening in Japan from 663 screens. Overall, the threequel has unearthed $238.5m overseas.
ASIA UPDATE
China Lion's Lost and Love bowed to $16.5m from its four territories of release. Peng Sanyuan's Chinese road movie also received a day-and-date release in the US and Canada, taking $85k.
WARNER BROS PICTURES INTERNATIONAL
UPDATED: Currently active in 64 territories, Warner Bros' Focus generated $7.9m from 4,750 screens to bring its overseas tally to $71.1m. Brazil added $1.2m for $3.2m after two weeks in play, while the UK remains the top international market with $10m. The conman drama opens in France and Spain this weekend.
Debuting in four new territories, Run All Night posted a second weekend of $5.1m from its 23 markets for an early $15.6m. South Korea recorded a $1.3m opening from 411 screens, as France led the holdovers with $643,000 for $2.1m. Its next major openings come in Germany and Russia on April 16.
American Sniper shot to an extra $5m from its 52 markets for $184.2m to date, with France continuing its excellent run with a $1.2m fifth weekend for a local tally of $20.9m.
Ahead of its opening in Japan on March 28, Jupiter Ascending has now amassed $130.6m overseas.
SONY PICTURES RELEASING INTERNATIONAL
UPDATED: With no new key market openings this weekend, Sony's Chappie earned a further $4.5m from its 69 territories for $42.7m to date.
South Korea led the holdover markets with $664,000 for a local tally of $3.9m, while Australia has taken $1.9m after two weeks in play and Russia has provided $6.7m after three.
The sci-fi opens in Italy on April 9 and Brazil on April 16.
UNIVERSAL PICTURES INTERNATIONAL
UPDATED: Fifty Shades Of Grey is now Universal's eighth highest grossing film of all time worldwide with $558.5m. This weekend saw it add $4.4m from its 60 territories for an overseas haul of $394.7m.
Opening in ten new territories, The Boy Next Door grossed $2.4m from an overall 22 territories for $8m. Germany led the way with $699,000 from 283 sites, while Spain provided $487,000 from 235. It opens next weekend in five of its remaining ten territories, including Brazil and Russia.
Seventh Son and The Theory Of Everything have now amassed $92.6m and $83.3m, respectively, overseas. Seventh Son's tally includes Legendary's release in China with a gross of $25.5m.
PARAMOUNT PICTURES INTERNATIONAL
The SpongeBob Movie: Sponge Out of Water is up to $121.2m overseas following a $3.2m weekend in its 48 territories. It splashes in UK cinemas on March 27.
STUDIOCANAL UK
Matching its soft domestic debut, The Gunman opened to $600k from 400 sites in the UK through StudioCanal, who also opened The Tale of Princess Kaguya in 45 sites resulting in a $101k bow.
Shaun the Sheep Movie and Paddington are up to $19.3m and $56m, respectively.