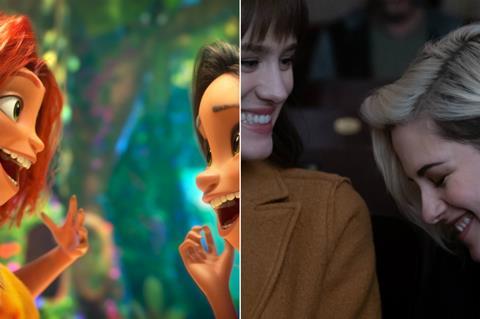 The Croods: A New Age is weekend's biggest grosser worldwide
Universal's release of Dreamworks Animation's The Croods: A New Age was the weekend's top title at the global box office, thanks to an estimated $35m debut session. That breaks down into $14.2m for North America for the five-day Thanksgiving holiday, plus $20.8m internationally across seven markets.
Internationally, China did the heavy lifting, landing in first place with $18.9m, ahead of local competitors Caught In Time and One Second. The animated sequel also opened top in Saudi Arabia, Vietnam and UAE.
IMAX screens delivered $2.6m of the worldwide total and contributed 10.5% ($2m) of the international tally.
The original The Croods was released in March 2013, grossing $187m domestically and $400m internationally (via 20thCentury Fox) for a $587m worldwide total. Global conditions are now much more challenging for films to reach those kinds of box office numbers – even for a sequel to a hit animation.
The Croods: A New Age is directed by Joel Crawford, who has multiple story artist credits on DreamWorks Animation titles, and was head of story on Trolls (2016). Nicolas Cage, Emma Stone, Ryan Reynolds and Catherine Keener are among voice artists reprising their roles from The Croods.
Elsewhere for Universal, body-swap horror-comedy Freaky added an estimated $900,000 at the weekend, taking the international total to $4.9m. The top market was South Korea, with $269,000 in its opening session there. The film also opened in Vietnam, Croatia, Bolivia and Paraguay. Including North America, the global tally now stands at $11.9m.
Happiest Season opens top of Australian box office
Sony Pictures has topped the Australian box office with its release of Happiest Season, knocking Tenet down to second place. The Christmas family comedy with an LGBT twist is directed and co-written by Clea DuVall, and stars Kristen Stewart, Mackenzie Davis, Aubrey Plaza, Alison Brie, Marry Steenburgen and Schitt's Creek's Daniel Levy.
Happiest Season debuted with Aus$553,000 ($408,000), just ahead of Tenet with Aus$529,000 ($390,000). Tenet has recently been back at the top of the Australian box office after the state of Victoria (including Melbourne) reopened its cinemas, and has reached Aus$14.2m ($10.5m) so far. Universal's Let Him Go, starring Diane Lane and Kevin Costner, landed third in Australia with Aus$337,000 ($249,000). Trolls World Tour and Rams (a local remake of the Icelandic film) round out the top five.
Happiest Season was produced by Sony's TriStar Pictures and Temple Hill Productions, with co-financing from Entertainment One which bought UK and Canadian rights. Sony passed the film to Hulu in the US, which released it digitally on November 25. In the UK, eOne retained rights but pivoted to a premium VOD release, which occurred on November 27.
The Witches boosted by Netherlands opening
The fifth session for Warner Bros' The Witches saw Robert Zemeckis's Roald Dahl adaptation achieve a strong hold at the international box office, with weekend takings dipping gently from $1.3m to an estimated $1.2m. A fresh opening in the Netherlands, where cinemas have reopened at a maximum capacity of 30 per screen, saw the supernatural comedy fantasy top the country's box office chart with $514,000. Total after 31 days is $16.9m.
In cumulative totals, top markets to date for The Witches are Russia ($4.2m), Mexico ($2.7m), Saudi Arabia ($1.6m), Taiwan ($1.2m) and Spain ($1.1m). The Witches premiered on HBO Max in the US, and is available via premium VOD in the UK.
Also from Warner Bros, Tenet finally passed the $300m international box office milestone, grossing an estimated $537,000 outside North America at the weekend, for a $300.4m total. Adding in North America, the worldwide tally rises to $357.8m.