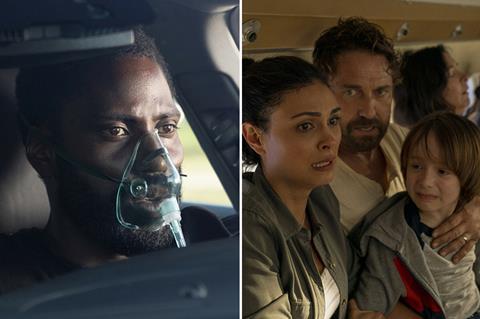 'Tenet' hits $283m worldwide
Christopher Nolan spy thriller Tenet grossed an estimated $15.8m in its fifth session internationally, down from $25.3m for the previous weekend, a decline of 38%. No new markets opened to give the film a boost. The estimated international total for the Warner Bros release now stands at $242m, and the global total – including North America – is an estimated $283m.
Top international performer was Japan, with an estimated $3.0m in its second session, only marginally behind North America's $3.4m weekend tally. The Japan number represents a decline of 30% from the film's holiday opening the previous week. Over the past seven days, boosted last week by the Silver Week holiday, Tenet has added $7.1m in Japan, for an $11.4m total.
More-mixed weather in much of Europe (including as far south as Italy) saw Tenet achieve some strong holds, declining 13% in France and 17% in Italy, and climbing 9% in Germany and 8% in Netherlands. In UK, where after a very strong start weekly drops have tended to exceed those in Continental Europe, the decline was 21%: the film's smallest decrease to date.
Top international markets after Japan at the weekend were China ($1.6m), France ($1.4m) and Germany ($1.3m).
In cumulative totals, the film's international league table remains unchanged, with China ($64.3m) leading ahead of UK ($19.6m), France ($18.0m), Germany ($14.6m) and South Korea ($13.1m).
Tenet still has 25 markets yet to open, with the next coming on October 1 (Cyprus), followed by six smaller Latin American and CIS territories on October 8. The film is chasing global totals for Interstellar and Dunkirk of $696m and $527m respectively.
'After We Collided' adds $3.25m
Like Tenet, Voltage Pictures' After We Collided did not enjoy the benefit of any new territory openings at the weekend. Its estimated weekend haul of $3.25m represents a 26% decline on the previous session, and brings the total to an estimated $34.5m.
From Cruel Intentions director Roger Kumble, After We Collided is the sequel to $70m global hit After, and is the second film to be adapted from the series of "new adult" romance novels by Anna Todd, starring Josephine Langford and Hero Fiennes Tiffin.
Top market was Germany, with $740,000, almost dead level with the previous weekend. Next comes UK and Ireland with $646,000: a slim decline of 17%. In third is Russia/CIS with $435,000, representing a 67% drop from its opening the previous weekend.
After We Collided's league table of cumulative totals remains unchanged, with Germany ($7.38m) leading ahead of Italy ($4.74m), Spain ($3.51m), UK and Ireland ($3.26m), Russia ($3.04m), Australia ($1.74m) and Denmark ($1.55m). Other territories above $1m are Poland, Canada and Czech Republic/Slovakia.
New openings boost 'Greenland'
Gerard Butler action thriller Greenland saw a significant spike in revenues at the weekend thanks to new openings in 19 territories, including Spain, UAE and Saudi Arabia. The STX-backed film added an estimated $3.7m for the session, bringing the international total to $17.7m.
In revenue terms, top opening was in Saudi Arabia with a chart-topping $865,000. Next comes Spain with $777,000 for local distributor Diamond Films, and likewise a chart-topping result in the territory. STX reports that local restrictions in Madrid mean that currently the city is only providing 10% of the Spain box office market, compared to – more typically – 30%. Confidence is high for a strong run, given lack of competition from other releases until Honest Thief starring Liam Neeson on October 23.
Overall, Greenland took $1.5m across the Middle East region for local distributor Italia, which it says is 50% of the opening numbers achieved recently by both Mulan and Tenet.
Next, Greenland arrives in South Korea (September 29) and New Zealand (October 1). Ric Roman Waugh (Butler's Angel Has Fallen) directs the story of a family fighting for survival as a comet races to Earth.
'Mulan' dips in quiet weekend
No new openings for Disney's Mulan remake saw the film take a tumble in international takings, with an estimated $3.3m for the weekend, down from $10.9m for the previous session. Strongest holds were in Poland (-19%) and Saudi Arabia (-31%).
The cumulative total rises to $64.4m, which compares with $57.0m a week ago. The film is playing in markets where the Disney+ subscription service does not operate. In cumulative totals, top territories are China ($40.0m), Middle East ($5.8m), Russia ($4.4m), Thailand ($2.8m) and Taiwan ($2.4m).
'The New Mutants' drops 30%
New openings in Croatia, Middle East and Slovenia helped The New Mutants to a $1.4m weekend in international territories, which compares with $2.0m for the previous session – a relatively slim 30% drop. The Marvel film was also buoyed by some strong holds in individual markets, notably Germany (-12%), UK and Ireland (-19%), France (-26%) and Mexico (-30%).
Top international market so far is France, with a $2.8m cumulative total, followed by Mexico ($2.0m) and UK ($1.9m). The next notable market for the X-Men spinoff is Brazil, opening October 22, with China's release date to be determined.