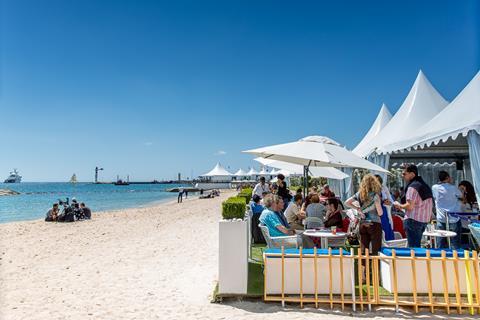 A final decision on whether and when the 73rd edition of the Cannes Film Festival and its Marché du Film will take place had yet to be announced on Thursday (April 9) as Europe headed into the Easter weekend break.
The future of this year's edition has been in the balance since early on in the global Covid-19 outbreak which has locked down most of Europe, the US, Latin America, Asia and now Africa.
In pre-coronavirus times, the film industry would be eagerly awaiting the traditional announcement in Paris of the Cannes Official Selection on April 16, followed by a month of frantic activity in the sales, distribution, marketing, press and PR sectors.
Instead, nearly all of its professionals are in lockdown at home, wondering when sets and cinemas will open again.
In the backdrop, the Marché du Film and a separate consortium led by the CAA have announced tentative plans for virtual marketplaces to replace or run alongside the Cannes Film Festival, depending on what happens. Individual sales companies, such as UK-based Film Constellation, have also been trailing their own independent online campaigns.
Ahead of a final decision taken by Cannes, Screen talked to key international buyers for their views on the proposed virtual initiatives; whether they will go to Cannes if it takes place, and what they are doing with their theatrical release slates during the lockdown.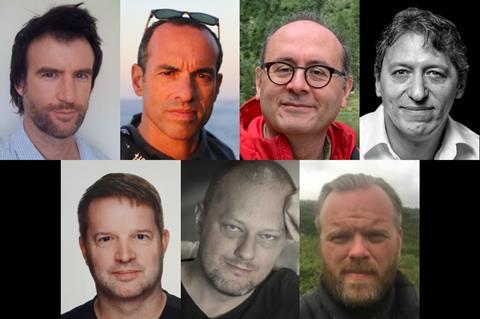 Guy Shani, CEO of Tel Aviv-based Lev Cinemas, welcomed the virtual market plans but like most distributors said it was difficult to set acquisition strategies amid the global lockdown.
"It's important to keep some sense of the business and future product but it's also hard to acquire when the future is in limbo," he said.
He added most buyers are in contact with sales companies year-round and already know what is coming down the pipeline, and may not need a virtual market to know what is available.
Pim Hermeling, founding chief of leading Benelux arthouse distributor September Films, echoed these sentiments. "We know exactly what's coming up and when. The whole process is very transparent, and even more so, when you do acquisitions directly with producers."
Rome-based Lucky Red's head of acquisitions Stefano Massenzi dismissed suggestions, however, that film sales and acquisitions could be done as easily outside as in a physical marketplace, real or virtual.
"The propensity to buy and to sell is stronger when you concentrate the tension in one place and in a set timeframe," he said. "The market plays a key role on both sides. Sellers are able to create competition and benchmark their films with other titles on sale, while buyers get an overview and are able to compare buying options more easily. It also gives them the opportunity to swap notes with colleagues and follow the buzz."
Thor Sigurjonsson, general manager at leading Copenhagen-based Scandinavian distributor Scanbox agreed. "It's a good idea," he said. "Even though we're all in regular dialogue with the sales agents, I think it would be helpful – even just to give a timeframe. All buyers and sellers are working across a certain number of markets per year, it's essential there is a virtual market so we can at least hold the volume that we all need, or at least try to."
Gianluca Chakra, managing director of Dubai-based Middle East distributor Front Row Filmed Entertainment, suggested buyers might even end up buying more content, if virtual markets presented a broad range of new titles in an easily accessible and intelligent fashion.
"As we head into physical markets, we all know what's out there and what's not and try to target what we want. From the comfort of our couch, we might get an even better idea of what's available in terms of product," he said. "When you go to markets, your time is limited and you don't necessarily get round to seeing all the sellers. If we're were able to surf a platform, that's like an IMBD of available new films, we might end up buying more stuff, especially if there was an ability to also search by genre and types of film."
Chakra suggested the rise of global platforms and multi-territory deals by the US studios meant it had become increasingly difficult for independent distributors to tie up deals in situ at physical markets. "You come out of a market thinking, 'Great, I think I bought this film', but effectively you're waiting for the global platforms to kind of reject the film and for sales agent to confirm the deal."
Jakub Duszynski, artistic director at Warsaw-based Polish distributor Gutek Film, suggested a virtual marketplace would also give an indication of the state of the sales and distribution sectors following the Covid-19 lockdowns.
"It would show if there is the same demand for theatrical titles in these uncertain times," he said. "I would be curious to see if asking prices remain at the same level or go down because of less demand or new distributor estimations for performance of theatrical films. But, on a more personal level, I'll miss not seeing a lot of people I've worked with for more than 20 years."
Lack of buzz?
Lucky Red's Massenzi questioned whether a virtual marketplace could work without the buzz and the excitement of a physical festival like Cannes or Venice. "Buzz is key, for market titles, and even more so for festival films. A first test for a film is the feedback from professionals and journalists as well as the audience. Think how important Cannes and Venice are in defining the release calendar for the arthouse sector," he said.
Hermeling went further, saying it was near impossible for arthouse features to find an audience without a big festival push. "Festivals are very important to give a film some value. Only the films with a festival competition will have a decent and commercial release nowadays. I'm talking about director-driven, arthouse-crossover films here."
Gutek's Duszynski said tapping into "reviews, buzz and colleague opinions" at festivals or live markets was a key pole of his decision-making process when deliberating on acquisitions.
Front Row's Chakra suggested it would be harder for arthouse titles to break out sales wise without the buzz, referring to titles like Capernaum, which racked up deals for Wild Bunch at Cannes in 2018 on the back of market screening buzz in the lead-up to its premiere in Competition. "The fascination of Cannes is you want to see audience reaction. That's what drives the sales. It's not like I'm going to listen to Vincent [Maraval] tell me, 'Hey man, this is a great film, watch it'. Not being able to see the reaction of audiences to films like that is going to be a handicap the virtual markets will face."
Nicolas Whatson, general manager and head of acquisitions at Sydney-based Palace Films, the leading arthouse distributor for Australia and New Zealand, said he would be "hugely enthusiastic" for an online event showcasing new and upcoming independent features.
But like the other buyers, he questioned what would happen if sales agents tried to launch titles without the framework of an Official Selection and the other parallel selections. "If films are finished and available, bring on the distraction! My only concern is that it'd be challenging not to get completely overwhelmed if there wasn't the usual curatorial structures. Without an Official Selection, it'd just be a meat market," he said.
Whatson added, however, that evaluating films within the heady, busy atmosphere of Cannes can also be complex.
"You can never underestimate the 'festival bubble', where a buzzy screening artificially inflates and distorts understanding of how a film might actually stand up with local audiences in the cold light of day, months or a year later. Or sometimes it's the opposite, where a poorly positioned project is unfairly maligned by the press or social media," he said.
"I do find the machinations of Cannes pretty testing; the rigmarole of securing tickets, dealing with crowds, the dress codes, the security and the insane lines. All that said, it's the best job in the world. The thrill you get from being at the world premiere of a Crouching Tiger, or Leviathan or Parasite is just beyond. Cannes kills me, but I love it, and wouldn't miss it for the world."
Will they go?
But while Cannes remains the must-attend event of the year for film professionals around the world, buyers were mixed on whether they would attend the festival if it does go ahead this year. "It depends on what happens with the sanitary situation," said Massenzi.
Hermeling said it was unlikely he would go if it were held end of June or beginning of July, an option suggested by the festival in its announcement in March that it would not be retaining its May dates. "A good idea would be to cancel Venice and use this time slot for Cannes. Then I would consider going. June, July, in my opinion, is too soon," he said.
Whatson thought it was unlikely he would be able to attend, regardless of whether he wanted to or not.
"Borders are shutting down and will only get tighter. I can't foresee the ability to travel from Australia to Europe – or anywhere else internationally – in 2020, at least not without having to deal with insane immigration processes, health checks and – I suspect – an isolation period," he said.
He also asked a question which is increasingly on the lips of film professionals. "How can an international event of any nature, cinema or otherwise, proceed in an environment when people can't even leave their homes?"
Lev Cinema's Shani, Gutek's Duszynski and Scanbox's Sigurjonsson, in the meantime, all answered with an emphatic "Yes" when quizzed on whether they would make the trip to the French Riviera.
Buying power?
Most of the buyers to whom Screen spoke said it was too early to assess whether they would be in a position to go on a spending spree – whether the market was real or virtual.
Hermeling said September Films' acquisitions during this period would likely be limited to films that were completed or in post-production. "Pre-buying is very tricky, when you don't know when they are going to be able to shoot the film," he explained.
"This is the key question that everyone in our industry is asking. Acquisitions are based on a mix of benchmarks coming from the past and anticipation of the future, numbers and intuitions that define a price," said Massenzi.
"The crisis makes it very difficult to foresee the future based on the past. Everyone will be much more selective, but there will also be less product. Films that base their financing on sales will very likely have a tough time. Until the theatrical market reopens, the definition of price will difficult and new models will need to emerge."
Lev Cinema's Shani said he was trying to remain positive. "That's a tricky one. I'm trying to keep optimistic, the same as I'm still signing deals agreed in Berlin."
Scanbox's Thor Sigurjonsson and Gutek's Duszynski were more optimistic.
"We're looking to 2021 and I believe the theatrical market will bounce back," said Duszynski.
Sigurjonsson said he and colleagues were also still looking for titles for 2021, even though they knew that there would be a production lag due to the Covid-19 shutdown of shoots around the world.
Holding the theatrical line
In the meantime, most of the distributors seem to be holding the theatrical line for the films they were due to release theatrically as the pandemic intensified and lockdowns were declared, rather than opting digital release options.
Duszynski said Gutek had no digital distribution plans for the stalled releases on its slate which included The Traitor, The County and Our Time.
"We pulled The Traitor one day before the release day," he said. "We're holding and haven't cancelled a single theatrical release so far. Theatres are crucial for us. I don't believe the kind of films we go for could become events if introduced online."
Lev Cinema's Shani said the company had postponed the planned releases of And Then We Danced and The Perfect Candidate. "There's no point wasting good films. However, we're planning TVOD releases for films that were in cinemas such as The Specials, Jexi, Martin Eden, The Whistlers and Photograph."
Sigurjonsson said Scanbox was fortunate not to have had many theatrical releases lined up for March and April. "We had some big titles like Guy Ritchie's The Gentleman but it had done the bulk of its run. Other releases like Military Wives, we hope to move to a later date once the cinemas open again."
Lucky Red's Massenzi said it also made sense to hold onto unreleased films given that there may be a scarcity in new product due to the production shutdown. "In a period when it will be more difficult to find films to buy, we will still have good films for the market."
Front Row's Chakra noted, however, that his company was hoping to run premium VOD releases for Misbehaviour, which had been out for just two days when cinemas in the Gulf shut down, and Resistance, which had also been due out in this period.
"These are films we've already paid for. We can't really stall. You want your return on investment whether through premium VOD, and then classic VOD, and then SVOD and pay-TV deals and so on. But for a while now, we've been building a model which is not wholly dependent on theatrical because we could see box office is falling."
Palace Films, in the meantime, had been due to release Martin Provost's comedy-drama How To Be A Good Wife in Australia on Thursday (April 9), and A White, White Day in mid-May. Whatson said there were no plans to release them digitally instead.
"Ancillary earnings on foreign-language content – Palace's focus – is comparatively marginal. So far, I'm not seeing a great deal of evidence that consumer behaviour is changing in that regard, in that everyone's just bingeing TV… Good luck trying to draw eyeballs away from [Netflix series] Tiger King!," he said.
"But I'm still watching the Kino Marquee initiative with interest, and there are some movements with a few festivals in our region exploring digital arenas that will be worth keeping an eye on."