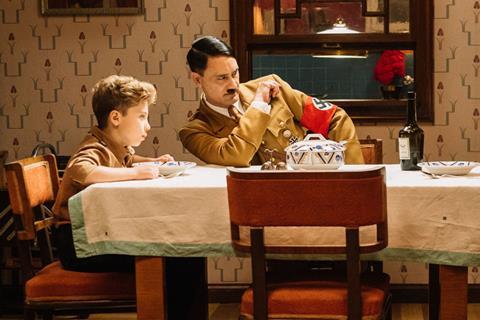 Taika Waititi's Jojo Rabbit opened the fourth International Film Festival & Awards Macao (IFFAM) at the Macao Cultural Centre on Wednesday (December 4).
International guests in town for the festival include Peter Chan Ho-sun, head of the international competition jury, and fellow jury members Ellen Eliasoph, Tom Cullen, Dian Sastrowardoyo and Midi Z, as well as New Chinese Cinema competition jury head Cristian Mungiu and his fellow jury members Qiu Yang, Kirsten Tan, Tricia Tuttle and Noah Cowan.
Director Mattie Do and her The Long Walk team including actor Yannawoutthi Chanthalungsy also attended the opening night festivities. The film, which made its world premiere in Venice, previously was one of the IFFAM Industry Hub's inaugural project market selections, as well as featuring in last year's Works in Progress presentation.
Earlier in the day, the festival also received a traditional Chinese blessing in the afternoon at the entrance of the Cultural Centre - an informal event that included a lion dance to bring good luck and fortune.
Festival ambassadors this year include Carina Lau, Kim Yong-hwa, Wang Xiaoshuai and Juliette Binoche, who will present Hirokazu Kore-eda's The Truth.
The former Portuguese colony and present Special Administration Region (SAR) of China is commemorating two decades of its status this year and the festival has launched the 20th Anniversary Macao Special Presentations section. FIlms screening includes Patio Of Illusion, directed by Shangshi Chen, and the anthology Years Of Macau by nine local directors including Emily Chan and Peeko Wong.
The 10 films showcased in the international competition include Gitanjali Rao's animation Bombay Rose and the world premiere of Adriyanto Dewo's second feature Homecoming.
The New Chinese Cinema competition includes Cannes titles Dwelling In The Fuchun Mountains and To Live To Sing as well as Derek Tsang's box office hit Better Days.
IFFAM runs until December 10 and will close with the screening of Wong Hing-Fan's Hong Kong SAR film I'm Livin It.
IFFAM Industry Hub runs December 6-8, with the project market featuring 14 titles including Dodo Dayao's Dear Wormwood and Natalie Erika James' Drum Wave.