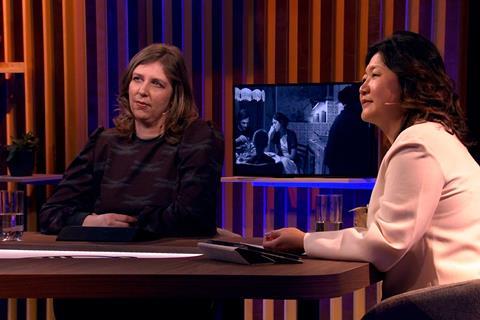 "Fearless" filmmakers are forging a path to get international production back on its feet, according to a panel of Tiger Competition directors at International Film Festival Rotterdam (IFFR).
"I don't think [the pandemic] will affect it at all – I think we're going to be reaching out across the seas forever," said US director Karen Cinorre, whose debut feature Mayday received its international premiere at IFFR following its worldwide launch at Sundance. "And I don't see it stopping films today.
"My team [on Mayday] is travelling as we speak to productions near and far. Filmmakers are problem solvers and they're big dreamers – they're adventurous and they're fearless. They'll lead the way in connecting the world back together again."
Mayday is a fantasy feminist fable starring Grace Van Patten and Mia Goth and explores what happens to the powerless when they suddenly gain power.
Nino Martínez Sosa shot his Dominican drama and fellow Tiger contender Liborio, about early 20th century religious leader Papa Liborio, before the virus crisis in late autumn 2018.
"If we had to shoot right now, maybe at the beginning we would be afraid and work in a bubble," said Sosa. "But it's impossible to maintain this forever, so we have to move on."
"It's affecting [international travel] right now, but I definitely think this will have passed by the end of this year. At least I hope so."
Innovation
Ismaël Chebbi and Youssef Chebbi, co-directors of monochrome Tunisian thriller Black Medusa, said the pandemic will bring innovation in the sector.
"I work between France and Tunisia, and have been doing a project for several years in Lebanon – we work all across the Mediterranean Sea," said Ismaël. "We are creative people – we create universes, worlds, characters, emotions and senses. We are also able to create new ways to make movies."
"Cinema will manage to adapt to these very strange times," added Youssef. "It's still the aim of cinema to look like us and say something about us."
"It's a brilliant time to write now, right?," said Juja Dobrachkous, whose Georgian drama Bebia, À Mon Seul Désir had its world premiere at this year's virtual IFFR. "Time for pre-production. Use the situation as much as possible. Write. Think. Imagine.
"Probably it will delay some projects, which will make us a little bit hopeless – but we will win. Everything will be back even stronger and more beautiful."
The final Tiger contenders press conference was hosted by senior IFFR programmer Bianca Taal and moderator Lorna Tee.
IFFR's online 2021 edition runs until February 7, with an online ceremony at 5pm CET closing the event.