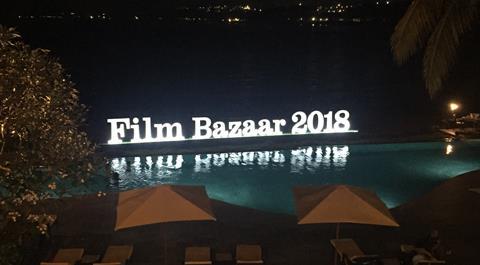 Saurav Rai's Invitation and Jadab Mahanta's The Holy Bride were both presented with Prasad Post-Production & Moviebuff Appreciation Awards in the Works-in-Progress Lab at this year's edition of Film Bazaar.
Invitation (Nimtoh), a Nepalese-language drama, tells the story of a ten-year-old village boy who upsets his grandmother by trying to get invited to a wedding within a wealthy family. Assamese-language The Holy Bride (Rukuni Koina) revolves around a girl who suffers social stigma due to a disease that prevents her from entering puberty.
Meanwhile the Facebook Award for a WIP Lab project went to Prateek Vats' Eeb Allay Ooo!, a Hindi satire about a man who has to keep Delhi's monkey population away from government offices. Facebook's award in the Film Bazaar Recommends section went to Assamese-language drama Ravening (Aamis), directed by Bhaskar Hazarika, about an affair between a student and a married doctor.
Prasad and Qube Cinema's Moviebuff also presented an award to a project in Film Bazaar Recommends: Kislay's Hindi-language Strange Old Lady (Ajeeb Budhee Aurat), about a woman who refuses to behave like a widow when her husband dies.
This year's Film Bazaar also presented 19 projects in the Co-Production Market, including Rahil Ahmed Patel's Hinterland, from A Death In The Gunj producers MacGuffin Pictures, Megha Ramaswamy's Reshma Shera, Kaushal Oza's Little Thomas, produced by Shaan Vyas, and Lonak from Sange Dorjee Thongdok (Crossing Bridges).
While the market was busy, international participation was muted compared to previous years, reflecting the on-going political problems at organising body, the National Film Development Corporation (NFDC), and the fact that invitations were sent out relatively late.
The organisation has been without a managing director since the firing of Nina Lath Gupta in March 2018. While Gupta was cleared of all accusations of wrongdoing by the Indian government over the summer, she still has not been reinstated in her role.
KNOWLEDGE SERIES
However, Film Bazaar did draw some high-profile international guests including Globalgate's Meg Thomson, Sydney Film Festival director Nashen Moodley, Locarno film festival's Nadia Dresti and sales agents Loco Films, Stray Dogs, Wide Management, Asian Shadows and Good Move Media.
Several French producers also attended, including Marc Baschet (ASAP Films), Catherine Dussart (CDP) and Francois D'Artemare (Les Films De L'Apres-Midi). Mentors for the WIP Lab included Pingyao film festival's Marco Mueller, Three Rivers' Olivia Stewart, producer Philippa Campbell and critic Derek Malcolm, along with editors Lizi Gelber and Anders Villadsen.
On the first day of Film Bazaar's Knowledge Series, former Disney India chief Siddharth Roy Kapur, who recently launched independent production house Roy Kapur Films, talked about changing audience tastes in India, where some tentpole pictures are crashing on their first day at the box office, while smaller story-driven films are having successful runs lasting several weeks.
One such successful mid-budget film is black comedy Andhadhun, directed by Sriram Raghavan, who gave a talk at Film Bazaar about subverting Bollywood formulas. Knowledge Series panels also included India's fast-evolving OTT landscape, international distribution of South Asian content and conversations with leading filmmakers including Vishal Bhardwaj and Ramesh Sippy.
Three of India's most ground-breaking indie directors – Vetri Maaran (Vada Chennai), Devashish Makhija (Bhonsle) and Ivan Ayr (Soni) – discussed the use of violence in contemporary Indian cinema. Producers including Dussart, Cinestaan's Deborah Sathe and Wishberry's Anshulika Dubey talked about balancing creative and financial choices.
FFO PORTAL
India's Film Facilitation Office (FFO), which is managed by the NFDC, also used Film Bazaar as a platform to launch its new web portal, www.ffo.gov.in, and held a two-day workshop to discuss filming in India.
The new website offers detailed information about Indian locations, studios, state-level incentives, trade associations and co-production agreements, and also enables producers to make online applications for shooting permits.
Lauched in 2015, the FFO has spent the past few years streamling shooting permissions and visa clearance for film, TV and web series production. It has so far assisted around 75 international projects to shoot in India including Danish film Iqbal & The Jewel Of India, US production Hotel Mumbai and France's The Extraordinary Journey Of The Fakir.
Attending Film Bazaar for the workshop, Ashok Parmar, joint, secretary, films at the Information & Broadcasting Ministry, said India's central government is drafting legislation on tax incentives, with further details to be announced at Cannes next year.
Film Bazaar took place November 20-24 at the Marriott resort in Goa, India.