Ip Man 3 and Zootopia lead the way in China as The Mermaid swims past $500m.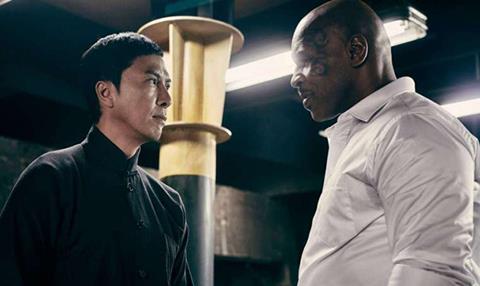 Ip Man 3 knocked The Mermaid off top spot at the Chinese box office in the week Feb 29 – Mar 6.
The third instalment in the hit franchise, which comes five years after its predecessor, scored a massive debut of $71.53m from its three-day opening weekend and accounted for 50% of last week's box office.
The new martial arts film reunites action star Donnie Yen with Hong Kong director Wilson Yip and producer Raymond Wong. Its three-day takings have already outperformed the entire gross of the first two Ip Man films combined and it has surpassed Crouching Tiger, Hidden Tiger: Sword Of Destiny, which is still on release and also stars Yen.
Disney's animation Zootopia, which opened simultaneously in the US, debuted in second place with a three-day opening of $23.54m, making it the biggest Disney animation or Pixar opening in China.
After reigning on top for 25 days straight, Stephen Chow's The Mermaid slipped to the third place with $22.12m. With a haul of $500.78m after 28 days, the fantasy comedy has emerged not only as the first Chinese film to surge past $500 million in China, but also as the first film to hit that milestone in a single territory outside the US.
Also in their fourth week after 28 days, The Monkey King 2 dropped to fourth spot with $5.29m for $181.27m, while From Vegas To Macau 3 dropped to fifth with $3.70m for $169.34m.
Crouching Tiger, Hidden Tiger: Sword Of Destiny ranked sixth with $2.96m for $38.77m after 17 days.
The film was followed by two new entries: Pierce Brosnan-starrer The November Man which took $2.38m and Antonio Banderas-starrer The 33, which made $2.11m, from their first three days.
Rounding out the chart were local comedy Mr. Highheels which took $1.74m for $19.46m after 22 days and Nicholas Cage-starrer Left Behind which clocked $1.70m for $5.31m after 10 days.
The top two films are expected to stay strong at the box office, especially Zootopia which has generated positive word-of-mouth. Ip Man, however, is in the hot seat, facing allegations of box office fraud, which may impact its performance.
Films coming this week include Adam Wong's She Remembers, He Forgets (Mar 10), Xu Haofeng's Arrow Arbitration and Gods Of Egypt (both on Mar 11). The Revenant opens on Mar 18.