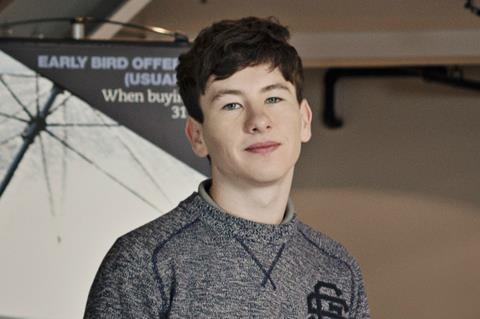 Irish actor Barry Keoghan, whose credits include The Killing Of A Sacred Deer, American Animals, and the Emmy-nominated series Chernobyl, is in talks to star in Nathalie Biancheri's Wolf, a high-concept arthouse drama about a boy who believes he is a wolf.
It is being produced by Ireland's Feline Films with Polish outfit Lava Films.
Wolf will be the third feature by Irish writer-director Biancheri following her documentary I Was Here, co-directed with Ola Jankowska, which debuted at CPH: DOX earlier this year, and the drama Nocturnal, starring Sadie Frost and Cosmo Jarvis, which is in post-production.
Keoghan was a UK and Ireland Star of Tomorrow in 2015 and his upcoming projects include Nick Rowland's Calm With Horses and BRON Studios and A24's Green Knight.
Wolf has received €800,000 in the latest round of production funding from Screen Ireland, announced on Tuesday July 23.
The organisation is also supporting the directorial debut of Naomi Sheridan, the Oscar-nominated screenwriter of In America, and new projects from rising Irish talents, director David Freyne and writer David Turpin.
A feature documentary about how Ireland repealed the 8th Amendment, paving the way for the legalisation of abortion in certain circumstances, is also in the works with backing from the body.
Sheridan will make her directorial debut with Bird, described as a modern-day Cinderella story where Cinderella is on day release from a women's prison. Centred around a woman on work-day release who falls in love, Sheridan co-wrote the script with Charlotte George. Underground Films will produce the feature, which was given an unquantified award from Screen Ireland.
Freyne, whose directorial debut was genre film The Cured, starring Ellen Page, which sold around the world in 2017, has written and will direct Beards (€700,000), a comedy set in 1990s Ireland. It is produced by Atomic 80.
Turpin, who caught attention with The Lodgers and the upcoming The Winter Lake, has written Don't Come After Me, about a woman who tracks down her birth mother years after being abandoned as an infant. It is being directed by Finnish filmmaker AJ Anilla, and was awarded €17,900 in development funding for production outfit Tailored Films.
Borderland, a 1970s-set UK-Ireland thriller written by Ronan Bennett, received €800,000 from Screen Ireland.
The further projects to receive production funding from Screen Ireland this quarter were Let The Wrong One In (€650,000), written and directed by Conor McMahon and produced by Workshed Films; black comedy Cutters (€600,000), set in a hair salon in a working-class suburb of Dublin which is written by Rachel Carey and produced by Auveen Lush for O'Sullivan Productions; and Sam Uhlemann's The Edge of Chaos, (€100,000) about a wealthy family who try and hold an intervention for their alcoholic daughter, which is being produced by New Stage Films.
Documentary, animation and TV funding
Aileen Kane, Lucy Kennedy and Maeve O'Boyle's feature documentary The 8th received €180,000 from Screen Ireland. It will tell the story of how the citizens of Ireland reached the moment of repealing one of the most restrictive abortion bans in the world. The project is a co-production between Black Tabby Films and Cowtown Pictures.
Also in documentary funding, the team behind Hostage To The Devil are reuniting for follow-up film Hostage To The Devil: In Pursuit Of Evil, to investigate the case of a German woman who approached the team for help, following the global Netflix release of the original documentary. It will be directed by Martin Stalker, produced by Causeway Pictures in association with Underground Pictures and was awarded €34,300 in development funding.
In animation funding, €300,000 was awarded to Cartoon Saloon for its Puffin Rock feature film. Jeremy Purcell will direct from a script by Sara Daddy.
Having expanded its remit to include TV production, Screen Ireland is also backing 14 TV dramas in development. They include Element Pictures' Normal People (€600,000), adapted from Sally Rooney's best-selling novel and directed by Lenny Abrahamson which is now filming on location in Dublin and Sligo.
It is also supporting Mark O'Connor's drama series Darklands, now shooting in Dublin, which was granted €300,000 for Parallel Films; Deadpan Pictures was given €425,000 for The South Westerlies, with Simon Gibney directing a script from Catherine Maher; and Treasure Entertainment received €160,000 for The Godparents, written and directed by John Butler.