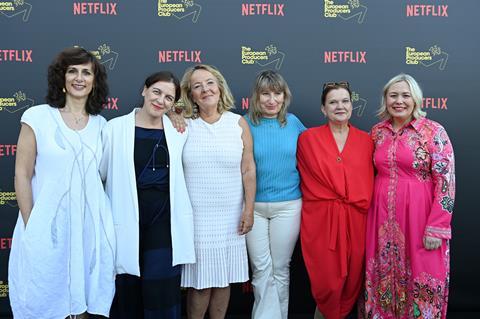 Irish producer Anna Mannion of Tri Moon Films has won the inaugural pitch contest for women producers run by the European Producers Club (EPC) and Netflix, for her project The Girl and the Ghost.

Launched at Series Mania in March this year, the contest aims to create new opportunities for European women producers, who entered fictional series pitches.
Scroll down for the full list of winners
Mannion receives a €50,000 award for first place, to further develop her project. All six finalists received prizes, with €20,000 for Romanian producer Ada Solomon of Microfilm in second place; and four producers each receiving €5,000.
It is funded through the Netflix Fund for Creative Equity, which aims to build new opportunities for underrepresented communities in the entertainment industry.
Further series projects currently on Tri Moon's slate include Celtic fantasy story Eire and coercive behaviour drama The Guilt Trip.
Venice awards
The awards were presented at an event this evening at Venice Film Festival. Netflix has a substantial presence at the festival across both films and staff, with co-chief executive Ted Sarandos and head of original films Scott Stuber both on the Lido.
The Netflix/EPC finalists were chosen by an independent panel composed of Cia Edstrom, of Goteborg Film Festival; Francine Raveney, founder of the European Women's Audiovisual Network; and producer Olivier Kohn.
The finalists then pitched their projects to Netflix's content team in Amsterdam this summer.
"Women producers are more scarce in the general landscape," said Gudny Hummelvoll, EPC president. "We felt the need to open new opportunities and improve their accessibility to the market."
"We know how important representation behind the camera is for representation on screen, which is why we support initiatives like this one," added Chris Mack, director, Grow Creative at Netflix.
Netflix-EPC pitch contest winners
1st prize: Anna Mannion, Tri Moon Films (Ireland)
2nd prize: Ada Solomon, Microfilm (Romania)
3rd prize: Mariela Besuievsky, Tornasol Media (Spain), Martichka Bozhilova, Agitprop (Bulgaria), Gabriele M. Walther, Caligari (Germany), Olena Yershova, Tato Film (Ukraine / Turkey)