Stop-motion animation Captain Morten And The Spider Queen is nearing completion at Telegael Studios in Galway, Ireland after a three-year production.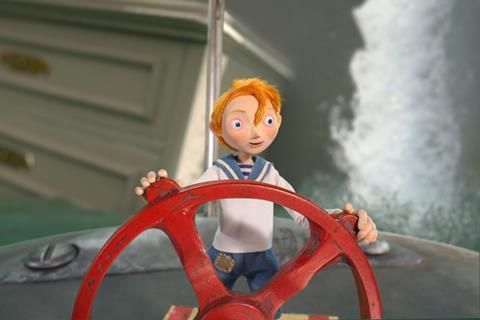 An eye-catching promo clip was shown at this week's Tallinn Black Nights Film Festival in Estonia, where the project is participating in the Baltic Event Works In Progress showcase.
The film is a co-production between Telegael and Estonia's Nukufilm, which is one of the oldest stop-motion studios in Europe, with Beglium's Grid VFX and the UK's Calon.
It is said to be the first stop-motion feature produced in Ireland.
The film's voice cast features Brendan Gleeson, Ciarán Hinds, Pauline McLynn, Tommy Tiernan, Michael McElhatton, Jason Byrne, Neil Delamere and introduces Cian O'Dowd and Susie Power as the titular Morten and his friend Eliza.
The story follows a young boy who dreams of being the captain of a ship, emulating his father who is away at sea. After a chance meeting with an inept magician, the boy is shrunken to the size of an insect and trapped aboard the deck of his own toy ship.
Watch a short promo for the film below.
Captain Morten And The Spider Queen is being co-directed by Estonian filmmaker Kaspar Jancis, who previously won the Cartoon d'Or at Europe's Cartoon Forum in 2010 with his short Krokodill, and Telegael's animation director Henry Nicholson.
Producers are Robin Lyons, Heather Grace Mills, Kerdi Oengo and Jan Goossen. Executive producers are Paul Cummins, Mark Mertens, Andrus Raudsalu and Anders Mand.
German outfit Sola Media has world rights. The film is set for release in 2018. See more stills from the film below.