Iron Sky: The Ark will be a Chinese-Finnish-Canadian co-production.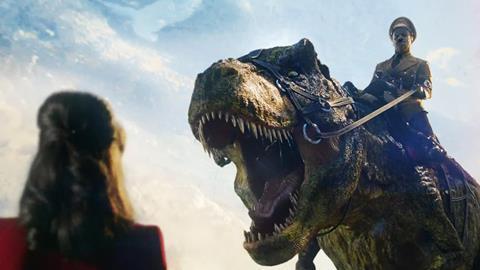 Iron Sky producer Tero Kaukomaa has revealed further details of the first Chinese film in the Iron Sky franchise.
Iron Sky: The Ark is already in pre-production. It will be directed by Timo Vuorensola, and will be shot 70% in Chinese.
China Film Corporation Limited, Jiabo Culture Development Co. Ltd, Iron Sky Universe are producing the film in association with Pan Pan Pictures Co Ltd and Longevity International Enterprises Ltd.
Iron Sky: The Ark is a Chinese-Finnish-Canadian co-production but is fully financed from China.
The film is about two Chinese university dropout audiophiles who set out on a quest to decode a mysterious message received from the Moon, but find themselves fighting against the mother of all conspiracy theories – the secret organsation Illuminati. The visual effects will be overseen by VFX house Pixomondo.
The film is expected to be shot in summer 2017 in Beijing, Dalan Musson (Iron Sky The Coming Race, pictured) wrote the screenplay with Max Wang, Timo Vuorensola and Hongyang Yu. Max Wang (Wolf Totem) and Tero Kaukomaa (Iron Sky, Jade Warrior) and May He are producing. The cast will be announced soon.
The new project was presented to the international press for the first time at this week's European Film Market (EFM), where the filmmakers released the first teaser trailer for the film at a special event at Astor Film Lounge today (Monday Feb 13).
News of the Chinese spin off comes as Iron Sky: The Coming Race, the sequel to the original Nazis on the moon film Iron Sky (2012), is nearing completion.
The Coming Race is in post-production and due to be released later this year. Universal will be releasing the film in Germany, France and the UK among other territories, Twin will release in Japan.
The third feature, Iron Sky The End Game, will follow that - and is expected to be completed for 2020.
An Iron Sky TV show set in the Cold War era is also being plotted.
"We have film and TV, we have merchandise, we have fans," Kaukomaa said of the fast expanding Iron Sky franchise.