Company lines up Eran Kolirin [pictured], Yuval Adler and Itamar Alcalay.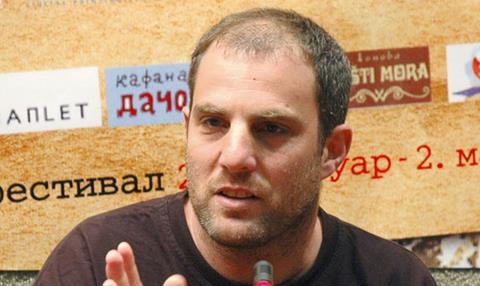 The budding feature film arm of leading Israeli media and entertainment company Dori Media Paran (DMP) unveils rough cut material from Amikam Kovner and Assaf Snir's infidelity drama Echoes at the Jerusalem Pitch Point works-in-progress showcase today (July 17), part of this year's Jerusalem Film Festival.
It is one of the first auteur productions to come out of the Israeli media company's move into feature film production, which began some four years ago.
Co-starring Yoram Toledano and Yael Abecassis, it revolves around a husband who uncovers another side to his wife and family when he listens in on her conversations with her lover. When she dies in an accident, he becomes obsessed with uncovering the identity of the other man.
Keren Michael, who heads up DMP's feature film division, will present the project alongside DMP CEO Yoni Paran.
Having previously worked as an independent producer for the likes of Avishai Sivan and Shira Geffen, Michael has worked closely with Paran to pull the slate together.
"Sometimes Yoni Paran will come with an idea and I'll investigate the right packaging. I have the knowledge of films and world cinema and he has sharp instincts which comes from a rich experience at the TV industry, of what audience can relate to. We bounce off one another," says Michael.
"In some of the projects we create strategic partnerships with filmmakers who have a proven track record, or have profile on the American market or at least on the film festival circuit and with whom we can find a potential relationship attractive."
"At the beginning, we've focused on Dori Media's own brands and more mainstream productions," she says, referring to two big screen adaptations of the successful Galis TV series as well as the children's fantasy Abulele.
"Echoes is the first auteur film to come fruition on our slate. We hoping to have final cut ready by the end of the month. We have three sales companies who have expressed interest. Our aim is to launch it at a big festival early next year," she continues.
Other upcoming features on the DMP slate include Eran Kolirin's adaptation of Palestinian writer Sayed Kashua's 2006 novel Let It Be Morning, a co-production with Paris-based Les Films Du Poisson which is being sold internationally by The Match Factory.
"We've starting to cast it," says Michael. "The plan is to shoot in February 2018."
Before that, DMP will shoot Eliran Malka's The Non-Conformists, charting the rise of Israel's ultra-orthodox religious political party Shas, which is also casting ahead of a planned October shoot.
Titles in development include Baskin, a new feature by Bethlehem director Yuval Adler based on the true story of peace activist Gershon Baskin and his role in negotiating with Hamas for the release of abducted Israeli solider Gilad Schalit.
It being adapted from Baskin's 2013 book The Negotiator: Freeing Gilad Schalit From Hamas.
The script will be written by writer-director Assaf Machnes, whose short films Auschwitz On My Mind and Seven Minutes have made waves at home and on the international festival circuit.
"We're hoping to have a full draft ready in time to present in Berlin at the Co-production Market," says Michael.
The slate also includes genre picture Sick Lake by Itamar Alcalay about a young doctor from Berlin practising in a village in northern Palestine in 1936, dealing with the case of sick teenage girl whose parents claim she is possessed by a demon.
It was developed with the Medienboard Berlin-Brandenburg (MBB) and the Torino Film Lab.
"We call it a Zionist horror. It's a big film, script and production wise and we got on board because it can be something really interesting to go back to the 1930's, just before the big war, when people believed in the possibility of inventing a new kind of man. They strove to explore science and ideology in a way that played with human nature," says Keren.
It will be the debut narrative feature for Alcalay after a number of award-winning documentary productions, including the series Dancing With Tears In My Eyes, about the political side of the Israeli clubbing scene, and features Stefan Braun and Four Years Of Night.
Other titles on the slate include Daniela Carmi's adaptation of her own novel The Yassin Family And Lucy In The Sky, about an Israeli-Arab Muslim couple who have been trying to adopt a baby but instead end up fostering a 13-year-old Jewish teenager who has trouble eating and communicates through songs by the Beatles.