Festival kicks off with double screening of Jeff Nichols' Midnight Special; new artistic director discusses security and censorship.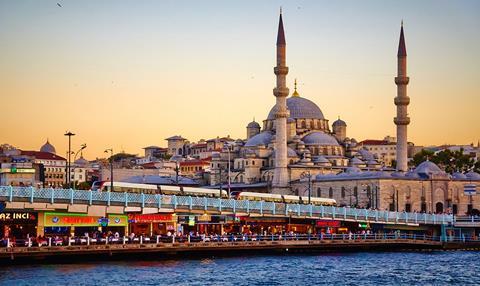 The 35th Istanbul Film Festival kicked off last night [Wed 6] with two screenings of Jeff Nichols' drama sci-fi Midnight Special.
Fifteen films will compete for the International Golden Tulip including Berlin favourite United States of Love, Olmo Omerzu's Family Film and Brady Corbet's directorial debut The Childhood of a Leader.
Among 11 films competing in the National Golden Tulip competition, four are world premieres: Cemil Ağacıkoğlu's The Field follows a man in a spiral of debt; Adnan Akdağ's My Own Life sees a student trying to film his own life; Tayfur Aydın's Black Crow about an Iranian actress forbidden from returning to Iran; and Seren Yüce's Swaying Waterlily, which sees two fortysomething friends turn into writing rivals.
The popular and prestigious festival's industry forum Meetings on The Bridge, the platform for bringing together filmmakers and film institutions from Turkey and its neighbours with the international film industry, runs April 8-14.
Increased security
However, this year's festival is contending with the joint spectres of terror attacks and government censorship.
Security is being tightened at the festival following two terrorist attacks in Istanbul in the past three months. Last month, Turkey's capital Ankara was also subject to a bombing which killed more than 30 people.
"At every screening room, there will be X-ray and body searches, like in Cannes and what happens in Israel," artistic director Kerem Ayan told Screen.
"Industry guests had written to us, asking what we were going to do about security. The screening rooms will be secure."
Ayan admits that there have been a number of industry delegates who have pulled out of going to the festival, particularly Americans.
"But so far from Europe, the Middle East and the Balkans, there have not been very many cancellations," he added.
Censorship
Ayan was appointed director of the festival after the previous head Azize Tan stepped down in October.
The handover followed last year's fateful 34th edition, when dozens of Turkish film-makers withdrew their films in protest over the removal of a documentary from the programme, leading to the cancellation of the festival's competitions and closing ceremony.
Cayan Demirel and Ertugul Mavioglu's documentary, North (Bakur), deals with the daily life of three Kurdish guerrilla fighters in the north of Turkey and was set to be screened halfway through the festival.
But it was cancelled just hours before the screening after festival organisers received a letter from the Turkish ministry of culture claiming that the film did not have the required registration certificate.
Despite being seen as a move by the government against free speech, festival organisers chose to comply with the ministry's orders and sparked outrage from the directors and producers of 22 films in the festival including Palme d'Or winner Nuri Bilge Ceylan (Winter Sleep).
The new artistic director said he is pushing for a change in the law to stop such censorship happening again: "This year, we are asking for the visa to show films, because it's the law.
"At the same time, we are trying to change the law. We are talking to the Ministry of Culture and asking that all foreign films and Turkish films will be treated equally.
"For foreign films, there is currently no problem, it's only for Turkish films."
He insisted there has been no government interference in the selection of films this year. "We are waiting to see what happens in the festival, to see what will happen in years to come, because of course we need the support of the Minster of Culture, we are a foundation but we also need money from the Ministry."
Festival shortened, female director prize
Changes that Ayan has already made include shortening the event by five days, so that there is a more curated program. A greater emphasis has also been placed on promoting Turkish talent, with a new shorts programme and a cash prize on offer to one of 15 female directors.
Ayan said of the prize: "I think that it is important that we are doing this in Turkey, where there is a lot of violence against women."
Last night's opening was a scaled back affair with no opening ceremony and Nichols' Midnight Special screening in two different venues.
Ülkü Erakalın
Separately, the local industry was dealt a blow today with news of the passing of local director Ülkü Erakalın, one of the most prolific filmmakers of the Yeşilçam era of Turkish cinema.
With around 200 films to his credit, Erakalın was to receive the Cinema Honorary Award at this year's festival, which issued a statement expressing its sadness at the director's passing.