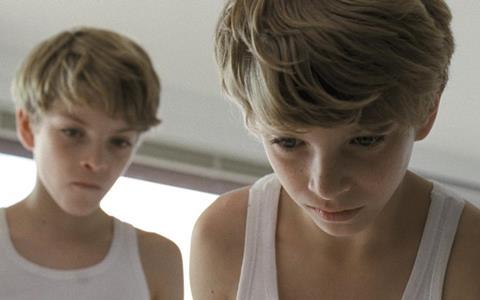 Paris-based Playtime and Animal Kingdom from New York have begun to package the English-language remake of Goodnight Mommy, the art house horror that was selected as Austria's Oscar submission in 2015.
Filming is anticipated to begin in the third quarter of 2019 and Matt Sobel (Take Me To The River) is attached to direct the story of twins who arrive at their mother's house to find her face covered in bandages.
When she tells them her appearance is due to cosmetic surgery, Lukas delights in their mother's uncharacteristically lax house rules. However Elias begins to suspect she is not who she says she is.
Sobel is overseeing a draft by Kyle Warren. Animal Kingdom's David Kaplan (It Follows, It Comes At Night) will produce on behalf of Animal Kingdom alongside Nicolas Brigaud-Robert and Valery Guibal from Playtime (Son Of Saul, BPM, Let The Sunshine In).
Goodnight Mommy's original co-directors Veronika Franz and Severin Fiala will serve as executive producers. That film received its North American premiere at TIFF 2014 and was released in the US by TWC-Radius.
"My favorite films are those that invite the audience to step inside their protagonist's journey," said Sobel. "Whether fear of abandonment, or the dreadful realization that those closest to us may not be who they seem, our reimagining of Goodnight Mommy aims to create an immersive nightmare, with visceral sensations front and center."
Playtime co-founder Nicolas Brigaud-Robert added, "We are profoundly thankful that Veronika, Severin and Ulrich [Seidl, producer] entrusted us with the remake rights of their picture. With Matt's amazingly creative vision in adapting the film and by choosing to shoot it in English, we are convinced the movie will have great audience impact around the world."
"One of the more chilling films in recent memory – Veronika Franz and Severin Fiala's "Goodnight Mommy" represents a true feat of economical genre storytelling," said Kaplan. "We fully recognize the obligation to do justice to the source material, embrace that challenge and couldn't feel luckier to have both Matt and Kyle on board."
Playtime presents co-productions Non-Fiction by Olivier Assayas and Sunset by László Nemes in TIFF Special presentations, and is launching Angelo by Markus Schleinzer in Platform, and Rythi Pahn's Graves Without A Name at TIFF Docs.