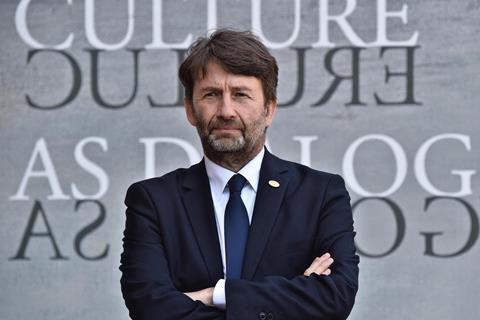 Italy's culture minister Dario Franceschini has called for the country's film and TV tax credits to become a permanent measure, saying the growth of its production sector can only be achieved if the industry is provided with certainty over time.
Franceschini, speaking exclusively to Screen, also said the government is evaluating additional measures to lengthen cinema release windows to support struggling exhibitors.
Film and television productions in Italy have soared in recent years thanks to the nation's generous tax credits, which were increased from 30% to 40% following the outbreak of the Covid-19 pandemic.
Numerous local and international productions, including Ridley Scott's House Of Gucci, Showtime's Ripley series and Joe Wright's Cyrano, have filmed in Italy to take advantage of its tax credits. The incentives also allow producers to receive cash back on their productions each month, easing cashflow issues.
"[The] cinema tax credit can and should remain a permanent measure in support of our film and audiovisual industry. Only by providing certainty to the sector is it possible to create that virtuous driver of growth that is strongly needed," Franceschini said.
The culture minister said that the incentives, which were first introduced in 2008, have "leveraged Italian cinema back up to its current position, giving it back the resources and means that made it great in the post-war period". He noted that several Italian films played in official selection at Cannes this year.
Franceschini said new measures were also being studied to support struggling exhibitors following the April introduction of a blanket 90-day theatrical window for all films with state financial backing.
Previously, emergency Covid-19 measures allowed films that had qualified for tax credits and public funding to skip a theatrical release and launch directly on streaming platforms without losing public financing. Theatres were closed for long stretches of the pandemic in Italy.
"Despite the golden era of production that we are experiencing, the critical situation faced by distribution and cinemas does not go unnoticed," Franceschini said. "Support policies tided over cinemas and distributors during the prolonged phases of closures, but today the final part of the supply chain suffers particularly, with the public struggling to return to the theatres."
Distributors, producers and exhibitors alike have complained loudly about the challenges facing cinemas. Earlier this month, Medusa chief Giampaolo Letta and RAI Cinema CEO Paolo Del Brocco jointly called for government intervention in support of the exhibition industry.
Some 500 theatres closed for good in Italy during the pandemic; without government support, more could follow, putting some 100,000 jobs at risk, according to Ueci, an association of Italian cinema theatres.
"This is why we are now working on a regulatory framework that will establish a system of incentives and windows to be respected before transferring onto the platforms," Franceschini said. He warned, however, of the need to embrace change, indicating streaming platforms will not replace cinema theatres but instead will provide new opportunities for content promotion.
"Just as cinema did not supplant the theatre, radio did not kill music and newspapers did not become extinct as a result of the internet, these platforms will not replace cinema," Franceschini said. "Each new media doesn't cancel out the previous one, instead it integrates it by amplifying the opportunities for use of content, offering new opportunities for its promotion. And these must be grasped."
Franceschini, who trained as a lawyer but is also a writer and politician, was appointed culture minister in 2021 in the government of Mario Draghi, the former European Central Bank president.
It is his third stint in the role: he previously served as served as culture minister from 2014-2018 and from 2019-2021. His time in office makes him the longest-serving minister of culture in Italy's history.
Franceschini stressed that the film industry is central to the Italian government's development policy.
"Cinema is a powerful engine for the imagination of a society, and is capable of triggering considerable creative energies," he said. "It has the ability to promote lifestyles, brands and locations around the world, creating on the one hand a significant tool of soft power and on the other an effective instrument for the attraction of quality tourism."
Franceschini said he considered the measures introduced in support of the cinema industry as among his greatest successes as culture minister.
These support measures include a €260m investment to help revamp and expand the iconic Cinecittà Studios, where films such as Ben Hur, Gangs Of New York and La Dolce Vita have filmed.
"It is our dream factory, which today is experiencing a sold-out season for its studios, and it must grow further and have all the infrastructure necessary to adequately service increasing national and international demand," Franceschini said.