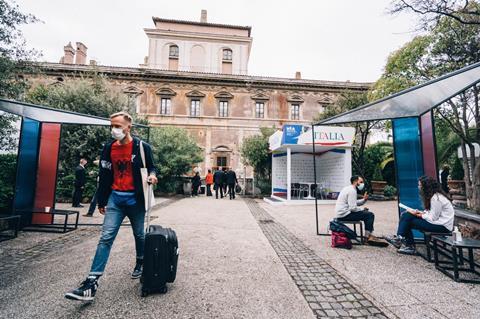 Italy's Mia Market has just wrapped up its digital edition. While the hybrid physical and online event closed on October 20, the platform – which hosted 300 movies and all industry panels on demand – was available for all badge holders until October 25.
The Rome-based audiovisual event was the first hybrid market to take place after the first lockdown. However, it ended up coinciding with another Covid-19 spike across Europe and kicked off just before Italy entered a semi-lockdown status. The event declared an attendance of 5,000 participants on site and 3,000 online, from 50 countries. In total 1,800 industry professionals were issued a badge.
While expectations for the event were tempered by the rise in Covid-19 cases, more than one of the attending sales agents that Screen spoke to were positive about the experience. "Considering the situation, the difficulties and the expectation it was definitely a good market for us," commented Raffaella Di Giulio of Italy's Fandango.
Yet the fact that a number of buyers who were due to attend had to cancel at the last minute because of the pandemic was an unavoidable disappointment. "I definitely expected the drop in attendance to be lower than what has been," said Di Giulio. "The closer we got to MIA, the worse the contagion seemed to be. Many distributors had to cancel, many others who had to test themselves were found positive. In addition, the British [attendees] had to anticipate their return home when news came that Italy was just about to be inserted in the list of countries coming from which a quarantine period is requested."
Most of the buyers that cancelled had to compensate by an online presence. "Though it's never the same," said Di Giulio – a feeling confirmed by other sales agents.
"We were already working online and we hoped to have some meetings in person," said Francesco Manno from Rome-based Summerside International. "It was crucial to have that market and to be there, unfortunately the spike in contagion was a major setback for which we can't blame MIA."
Manno also noted that the slight overlap with Mipcom's online edition was an issue. "The last day of digital Mipcom was the first one of MIA. Participating in an online market while being at another hybrid one wasn't easy."
"It was mostly national buyers [although] a few international ones were on site in the first days," noted Francesca Delise of Italian outfit Minerva. "There was nothing MIA could have done to prevent this unfortunately. On the contrary their presence was strong and helpful at the most."
Cautious buyers
According to the sales agents Screen spoke to, buyers seemed to be more cautious. With theatres closed in many countries, it was SVoD rights which were mainly under discussion, leading to smaller transactions.
"Several distributors still have to release titles from their 2019 stock, so they are not eager to buy anything," said Marco Fuso from Rome's Intramovies. "Streaming rights were the only dynamic part."
"Pre-sales were good," added Di Guila. "Everybody's mind is on spring when hopefully the situation will be better."
Summerside's Mannoalso noticed a change in the taste of buyers. "There was more attention on some genres that usually don't perform this good, like black comedies or indie arthouse action dramas. I think it's the result of new fresh titles coming at a slower pace."
The market had a more powerful impact with new projects. Pitches and sessions dedicated to the showcase of in-production documentaries and feature films were available on site and on demand, with producers and directors both in Rome and participating over Zoom.
"On the project side I've found all of the people I wanted to meet, whether it was in person or online," said Fusco. "A little bit of confusion about who was present and who wasn't created some discomfort at first, and maybe for the future it could be better to separate the physical part from the online one. Have some days all physical and some other all online. But apart from this, I'm satisfied."
All the sales agents agreed that an industry standard needs to be developed for online festival and market platforms. "We got used to some tools starting with the Cannes digital market," said Fusco. "But then all the other ones presented a different platform, design and software that all need to be learned from scratch."