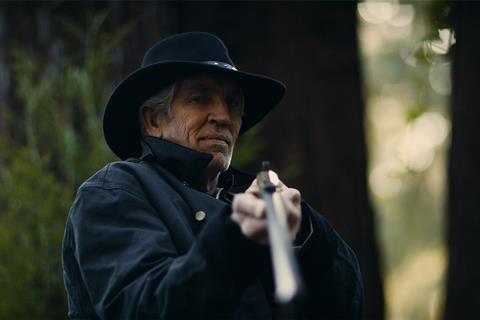 Jackrabbit Media has acquired worldwide rights to the Eric Roberts western thriller 5 Outlaws and commenced sales in Toronto this week.

Mark Padilla, Jackrabbit's president of worldwide sales and acquisitions, is showing exclusive first footage to buyers on the story from first-time directors Joey Palmroos and Austen Paul.

5 Outlaws centres on the titular bandits who awaken to find their hard-earned bag of loot from a train heist is mysteriously empty. Each cowboy becomes the focus of a high-stakes interrogation as the group attempts to unmask the thief among them.
With no witnesses and only the unforgiving wilderness as their backdrop, tension mounts as each outlaw struggles to clear their name and avoid getting killed in the process. The feature is in post-production and Screen has obtained a first-look of Roberts, whose credits include Runaway Train, Babylon, and Inherent Vice.
The cast includes Dallas Hart (Greenhouse Academy), Arthur Sylense (Indiana Jones And The Dial Of Destiny), and Jonathan Peacy (Last Dollar).
Aleksi Hyvärinen (The Twin, Lake Bodom), Palmroos, and Paul served as producers.
Padilla said, "We couldn't be more thrilled to have 5 Outlaws join our roster of outstanding films. Joey has demonstrated exceptional storytelling prowess in his directorial debut, and with Eric Roberts leading the cast, this film is poised for greatness. We believe it will resonate with audiences worldwide, and we're eager to bring it to the global market."
Palmroos added, "Working on [5 Outlaws] has been an incredible journey, and I'm grateful to the entire team for their dedication and passion. Having the legendary Eric Roberts as part of our cast has elevated this project to new heights. I'm excited to partner with Jackrabbit Media to bring this thrilling western to audiences everywhere. It's a story that's close to my heart, and I can't wait for viewers to experience the suspense and excitement we've crafted on screen."