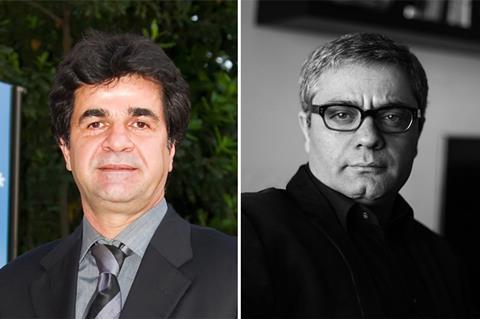 Venice Golden Lion winner Jafar Panahi has become the third and latest leading Iranian filmmaker to be arrested in recent days.
The arrest was confirmed on Monday (July 11) by producer Kaveh Farnam and by the Mehr news agency. It follows on from the arrests of Golden Bear-winning director Mohammad Rasoulof and fellow filmmaker Mostafa Al-Ahmad on Friday (July 8).
It's not yet clear for how long Panahi will be detained. He went to the prosecutors' office with colleagues and lawyers to inquire about the earlier arrest of Rasoulof and was himself detained.
Meanwhile, speaking from Dubai, Farnam has given details of the circumstances in which Rasoulof was taken into custody on Friday – including how his arrest was announced by authorities before it had actually taken place.
Rasoulof is currently in solitary confinement in Iran's notorious Evin prison; Al-Ahmad is in the same prison.
"I was talking to Mohammad until around 6pm Iran time on Friday. Suddenly, we saw news from IRNA (Iran's national news agency) that Mohammad and Mostafa had been arrested. If you look at the news and the date and the time, it seems that they made the news ready and published the news before they arrested Mohammad," commented Farnam, producer of Rasoulof's 2020 Golden Bear winner There Is No Evil.
Rasoulof has faced travel bans and the threat of prison sentences for several years. His current arrest appears related to a sentence imposed on him in 2016 when he made the film The Man Of Integrity, which won the Un Certain Regard award at Cannes Film Festival. The filmmaker's lawyers recently called on the authorities either to enforce the sentence or to drop it.
Farnam suggested there were other motivations for the arrest. One was Rasoulof's signing of the '#lay_down_your_weapon' statement aimed at police who had opened fire on protesters in the city of Abadan in late May following the collapse of a tower which left dozens dead and many more injured.
The statement, also signed by several other filmmakers, went viral, calling on "all those in military units who have become agents of oppression to put down their arms and join the nation".
Iranian authorities are also believed to be unhappy about Rasoulof's recent documentary Intentional Crime, about the death in custody in January this year of writer and poet Baktash Abtin, who died in Evin prison in January this year. He is understood to have been suffering from poor health when he entered the prison in September 2020.
"Mohammad made a documentary about that. In the documentary, he proved that, based on Islamic rules, the things they did with Baktash was a murder. He was sick. He was not in a good condition. Covid was everywhere and they refused to give him medicine. They refused to take him to hospital."
The film, which includes interviews with family members and fellow prisoners, looks in depth at the circumstances behind his detention and eventual death.
Intentional Crime was aimed at local audiences and has already been shown online and on certain TV channels in February, a few weeks after Abtin's death. It is also available in Farsi on YouTube.
Farnam revealed to Screen that plans are being made for a subtitled international version of the film.
"Mohammad was a symbol of Iranian independent cinema and [he was] an Iranian freedom fighter. [The authorities] thought that if they keep Mohammad and put pressure on Mohammad, other people will be down," Farnam said of the rationale for his arrest.
The producer, who left Iran over 20 years ago and is based between Dubai and Prague, has worked on all of Rasoulof's recent productions. He is calling on international festivals and agencies to publicise the arrests and for foreign governments to put pressure on Iran to release the filmmakers.
Cannes Film Festival issued a statement today condemning the arrests of all three filmmakers as part of "the wave of repression obviously in progress in Iran against its artists" and calling for their immediate release. The Berlinale released a statement decrying Panahi's detention, calling it "another violation of freedom of expression and freedom of the arts". The organisation called on Iranian authorities to release all three filmmakers immediately.