Sci-fi thriller wins fourth edition of US indie showcase in Paris.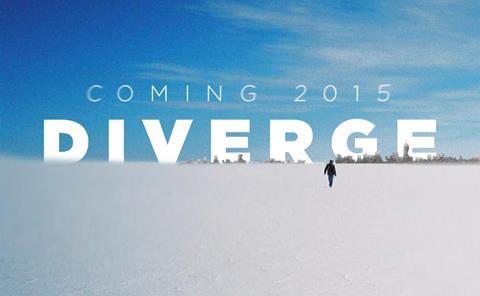 James Morrison's debut sci-fi thriller Diverge has won the fourth edition of indie showcase US in Progress in Paris.
The time-warp drama revolves around the survivor of a global catastrophe who is given a chance to reclaim his lost former life by stopping the man who caused the cataclysmic event - himself.
It is debut feature for Morrison after shorts Stay True and Little Brother, which travelled the North American festival circuit.
The Paris US in Progress showcase – a joint initiative between the American Film Festival in Wroclaw, Champs-Élysées Film Festival in Paris and Black Rabbit Film – aims to connect upcoming US independent films with distributors and sales agents in Europe.
Last year's winner, Benjamin Dickinson's Creative Control premiered at SXSW, where it took the Special Jury Recognition for Visual Excellence award, before being picked up for international sales by Paris-based The Coproduction Office just ahead of Cannes.
Diverge was produced by Noah Lang, whose other upcoming films include Band of Robbers, which premieres at the Los Angeles Film Festival this weekend (June 13), alongside Matthew Smaglik and David Mandel.
The prize includes postproduction services provided by Titra TVS, Commune Image and Eaux Vives Productions, a pre-sale to French channel Ciné+; registration at next year's Cannes Marché offered by the Producers Network, a special screening at the Centre Phi in Montreal and promotion on the Kickstarter site.
Other contenders
Other films screening in the rough-cut showcase included Carson Mell's supernatural comedy Another Evil, Logan Sandler's debut feature Live Cargo, about a recently bereaved couple whose retreat to a Bahamian island is wrecked by a turf war with a local drugs baron; Deb Shoval's LGGT drama AWOL, and Nana Mensah's dark Bronx-set comedy Queen of Glory.
There were also special 30-minute screenings of Gabe Klinger's Portugal-set doomed romance drama Porto Mon Amour and choreographer and filmmaker Celia Rowlson-Hall's experimental art-house picture Ma, transposing the biblical journey of the Virgin Mary to modern-day southwest America.
Market research
For many of the US producers at the showcase, it was their first encounter with the European sales scene.
"What's been helpful is that I spoken to a dozen sales agents and distributors. I got to ask questions about how sales are done in Europe and who might be a good fit for us," says Laura Teodosio, producer of Shoval's AWOL, who had meetings with the likes of Fortissimo, Bankside, K5, The Match Factory and Reel Suspects.
"Many of them said 'this movie's not for us' but I got to ask them why not. It's been excellent for my understanding of the buyers scene in Europe, to work out who are the big players and the little players," she said.
Born out of an award-winning short which premiered in Sundance in 2011, the picture stars rising young actress Lola Kirke as a young army recruit who plots to go AWOL after falling for a married woman on the eve of first deployment.
Kirke is also soon to be seen in Noah Baumbach's Mistress America, co-starring opposite Greta Gerwig.
Teodosio was an executive producer on Ira Sach's Love is Strange, which was financed through a patchwork of some 30 separate private investments, and is also a producer on his upcoming Thank You For Being Honest, which is due to shoot this year.
She has applied the Love is Strange private investment model to AWOL, albeit on a more modest scale, and is also hoping the film can crossover from LGBT audiences in the same way as Sach's pictures.
"This is a LGBT film but ideally we'd like it to crossover as was the case with Love is Strange. I know it's possible but I don't know whether we have a film like that and talking to people here was part of the process of figuring that out," said Teodosio.
The film is set to go into post-production with Love is Strange editor Michael Taylor working on the cut.
British filmmaker and producer Baff Akoto, a producer on Queen of Glory alongside New York-based Jamund Washington, said the US in Progress had given them a chance to gauge whether the film was working as comedy.
Written, directed and starring Ghanaian-American New Yorker Nana Mensah, the film revolves around a one-time child prodigy undergoing a life crisis, who inherits her mother's Christian bookshop in the Bronx neighbourhood she spent her life trying to escape.
"It's counter-intuitive showing something that's not finished but the feedback we got here has been great and people were laughing where we wanted them to laugh so we got a sense that it's working," said Akoto.
Post-production is scheduled to be completed at the end of the year with the aim of a premiere in one of the early 2016 festivals. Akoto was coy on whether they were aiming for a Sundance launch.
"You'd have to ask Sundance on that one. It should be ready in time but it may be too early," he said.