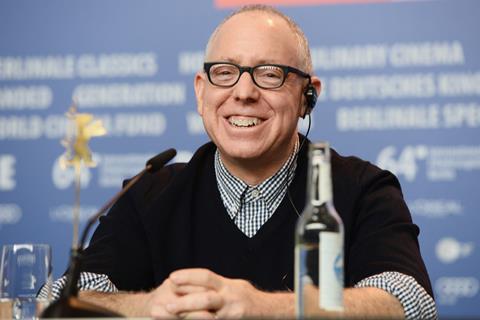 Veteran industry executive, producer, screenwriter, director, former Focus Features boss (and Ivy League academic) James Schamus has questioned whether the current financial models of the giant SVoDs can be sustained.
Schamus, who is showrunner on a yet to be announced Netflix series, was speaking today (October 12) during a virtual keynote Q&A at the Film London Production Finance Market.
"[The streamers are] using vast sums of essentially borrowed capital," Schamus said in his interview with Film London chief executive Adrian Wootton.
"Amazon is not really a profitable company. It is just not. Netflix we know is a company valued as a tech company. The endgame for it is going to be really a great challenge. I think [Netflix CEO] Reed Hastings and those guys will meet the challenge… but how they are going to continue to debt finance all this wonderful content and grow the valuation of the business to a place where it can be realised by its investors, that's a big gamble."
Schamus pointed out that the competition between the streamers is taking place "in the absence of a time-honoured approach to the financing and selling of independent media", with "egotistical, bloviating, ridiculously self-centred individuals and family members who've made it in the used car business, the laundromat business, real estate, whatever business" no longer putting their capital into independent film.
The former Focus Features boss noted there are now only "a tiny handful of gatekeepers" financing independent content. "They have very little incentive to acquire more than a tiny handful of things, especially feature-length films," Schamus said.
The business model of episodic television has also become challenged, he added, with the decline of syndication that "used to be the doorway for riches" for creators.
"All the economics that used to flow to creative people are now being stopped. Remember, there are no residuals, no profit participation… By the end of season 3, even if it is a big hit, there is very little incentive for the streamers to go to season 4 or 5 because the cost is higher than the retention rate that translates from the access to the show on their streaming service."
A moment of crisis
Schamus has previously expressed his optimism about the future of cinema but struck a more guarded note this time as he addressed the challenges raised by the pandemic.
"Obviously, this is a moment of crisis. It is a moment of justifiable great fear in the UK, US and elsewhere. To pretend those challenges are not real and that they won't have profound negative impacts on those of us who work in the creative industries would be foolhardy," he said. "We need to connect in our own vulnerability and not pretend that some self-help programmes will help us collectively get out of the hole we have placed ourselves in."
However, Schamus cited the work of UK actor/filmmaker Michaela Coel as a cause for optimism. "Who would have thought, even just two or three years ago, that something like I May Destroy You would be watched around the world," he said. "I see that and think, well, definitely, there is hope!"
Asked about inclusion and diversity, Schamus focused on recent happenings at Disney.
"One of the most diverse workforces in the United States, the tens of thousands of people who work cleaning, taking tickets at, maintaining and play acting at Disney theme parks are being laid off and yet the senior executive salaries [at Disney] have been restored. What does that tell you about all the efforts at diversity and inclusion at one of the biggest corporations that produces often some of the most interesting and often wonderful, wonderfully diverse, audiovisual media out there?" he said.
"It's the same week they announced the sequel to The Lion King with the wonderful filmmaker Barry Jenkins… it doesn't mean they are evil and that this is all bullshit. Barry is going to do an incredible job I am sure. But let's be honest. Unless there is a political will to break this kind of insane inequality… the work of genuine equality and power sharing is yet to really begin."
Finally, during the wide-ranging discussion, Schamus also revealed that Kitty Green's The Assistant, which exposes bullying and harassment in the film industry, was the most difficult film he had ever worked on as a producer.
He said: "A lot of folks who contemplated financing or distributing or otherwise participating in the film at various moments got cold feet. The film was not a fictional representation of Harvey Weinstein. It was actually a non-fictional representation of everybody, all of us [in the industry]."