At CPH:Forum, Eurimages Award goes to Maria Back's Psychosis in Stockholm; 31 projects pitched.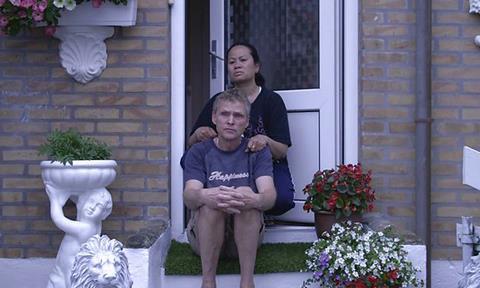 CPH:DOX expanded its industry offerings this year by adding a Work-in-Progress session on the eve of its CPH:FORUM for six Nordic documentaries currently in production or post-production.
Short presentations including footage was shown for projects including:
The Acali Experiment (Swe/Den/Ger/US), dir Marcus Lindeen, prod Erik Gandini
The story will examine what happened when Mexican anthropologist Santiago Genovés tried a unique experiment in 1973, putting 10 people on a raft for a 101-day voyage to study human behaviour. Lindeen brought the participants together for the first time in 43 years to talk about Genoves' manipulative behaviour. "I wanted make a reunion and let them talk about their memories of what happened on the raft," he said. "We let the subjects make a study of the scientist." The team aims to deliver the film in the autumn.
Contact: gandini@fasad.se
Between Two Worlds (Den/Swe/Neth), dir Janus Metz, prod Lise Lense-Moller
Metz, who directed Armadillo and is in post on fiction feature Borg/McEnroe, explained, "We are making a film [pictured] about migration from Thailand to Denmark, shot over a 10-year time span and across three generations." The film concentrates on women rom a rural village in Eastern Thailand coming to a fishing community in Northern Denmark. "It's also about how the communities affect each other over time," he said. "It's not just a story about migration, it's also a story about what it means to be a human being, to live a purposeful life and find a meaning for yourself." The film is set for delivery in early 2018.
Sales: Autlook, salma@autlookfilms.com
Golden Dawn Girls (Nor/Den/Fin), dir Havard Bustnes, prod Christian Falch
Bustnes described the film as "a political thriller from inside the Greek nationalist party, Golden Dawn," which rose in power after the Greek economic collapse. The story is partially told through the wives and daughters of some of the party's MPs who are imprisoned. The film will be delivered in late autumn.
Sales: DR Sales, drsales@dr.dk
A Comedian In A Syrian Tragedy (Fr/Den) dir Rami Farah, prods Lyana Saleh and Signe Byrge Sorensen
The story follows famous Syrian actor/comedian Fares Helou as he takes a stand against the Bashar al-Assad regime, and following him in exile in France. Farah started filming Helou in 2011, following him and his daughters from Syria to France. Producer Signe Byrge Sorensen said, "It' a film about hope… about hopes being completely shattered, and hope being rediscovered slowly, in exile." Expected delivery late autumn.
Contact: Signe Byrge Sørensen, byrge@final-cut.dk
At CPH:FORUM, 31 projects were presented. Some of the highest-profile films included Darwin's Nightmare director Hubert Sauper's Epicentro, an examination of changing Cuba; Kirsten Johnson's Cameraperson follow-up, Lord Of Obstacles, about the human-elephant conflict in Assam, India; US director Adam Bhala Lough's Alt-Right, about extreme conservatives in the first year of Trump's presidency (and the 'alt-left' combatting them); 20,000 Days on Earth directors Iain Forsyth and Jane Pollard's anthology Nordic Trips; Sophie Fiennes' reunion with Slavoj Zizek in The Pervert's Guide To XXIst Century; Sally Potter's archive musical Oh Moscow; Erik Poppe's first documentary, I Die, about the end of the life of intellectual Per Fugelli; Crystal Moselle's The Wolfpack follow-up Skate Girl, about a group of teenage girls in New York; and the Spike Lee-produced Cain, Abel & The Cowgirl, about the French terror attacks.
Director Maria Bäck and producer Anna-Maria Kantarius won the $16,200 (€15,000) Eurimages Co-Production Development Award for their film Psychosis In Stockholm, inspired by the director's memory at age 14 of visiting Stockholm, where her mother had a psychotic episode.
The jury said it "was impressed by the braveness of a young filmmaker, who presented a very personal, delicate and urgent project. In this project she elaborates a strong personal suffering, that she wants to bring alive in a film, that combines documentary and fiction elements."
The full list of CPH:DOX 2017 FORUM projects:
United Nations - The End of the Beginning, dirs Lea Glob, Andreas Koefoed, prods Sidsel Lonvig Siersted, Kirstine Barfod (Den)
Epicentro, dir Hubert Sauper, prods Daniel Marquet, Martin Marquet (Fra-Aus) [sales: Wild Bunch]
Magnitsky, Act II, dir Andrei Nekrasov, prod Torstein Grude (Nor)
Alt-Right, dir Adam Bhala Lough, prods Alex Needles and Greg Stewart (US)
The Second Israel, dir Michale Boganim (Fr)
The Island, dir/prod Anca Damian (Rom)
Balloon Wars, dir Sissel Morell Dargis, prod Jesper Jack (Den)
Skate Girl, dir Crystal Moselle, prods Lizzie Nastro nnd Izabella Tzenkova (UK-US)
My Father's Acres, dir Carl Olsson, prod Anne Kohncke (Den)
Polish God or Pepik the Czech Goes to Poland In a Quest for Love of God, dirs/prods Filip Remunda, Vít Klusák (Cz-Pol-Slov)
Jozi Gold, dirs Sylvia Vollenhoven, Fredrik Gertten, Adam Welz, prods Vollenhoven and Margarete angard | Sweden, Norway, South Africa
Why Slavery? series, information on specific films not yet made public [world sales DR Sales]
The Scar, dirs Noor Afshan Mirza & Brad Butler, prod Sarah Perks (UK)
Nordic Trips, executive producers Iain Forsyth, Jane Pollard; prod Anna Hildur (Ice, Den, Swe, Nor, Fin, Green, Far)
The Pervert's Guide To XXIst Century, dir Sophie Fiennes, prod Katie Holly (Ire-UK)
Bloody Nose, Empty Pockets, dirs Bill Ross, Turner Ross, prod Michael Gottwald (US)
Nobody in This World is Better Than Us, dir Roberto Minervini, prod Paolo Benzi (It-Fr-US-Den-Bel)
Hale County This Morning, This Evening, dir RaMell Ross, prods Joslyn Barnes, Su Kim (US)
Oh Moscow, dir Sally Potter, prods Christohe Sheppard, Anna Jancso (UK)
Prophets of Rage, dir Karim Amer, prods Jehane Noujaim, Mike Lerner (UK-Eg-U)
Sisters With Transistors, dir Lisa Rovner, prods Anna Lena Vaney, Elizabeth Benjamin (Fr-UK)
Cain, Abel & The Cowgirl, dir Dina Amer, prods Karim Amer and Spike Lee (UK-Eg-US)
Staring Through the Glass, dir Seamus Murphy, prod James Wilson, Julia Nottingham (UK)
La Societe Du Spectacle, dirs Sophie Vukovic, Goran Hugo Olsson, prod Tobias Janson, co-pro/writer Joslyn Barnes (Swe-Den-US)
I Die, dir Erik Poppe, prods Finn Gerdrum and Stein B Kvae (Nor)
Hello Ladies, dir Deborah Stratman, prods Stratman and Zsuzsanna Kiraly (Ger-US-UK)
The Second Israel, dir Michale Boganim, prod Marie Balducchi (Fr)
Psychosis In Stockholm, dir Maria Bäck, prod Anna-Maria Kantarius (Swe, Den)
The Miracle of Almeria, dirs Moon Blaisse, Thomas Bellinck, prod Emmy Oost (Bel)
Lord of Obstacles, dir Kirsten Johnson, prods Martin Marquet, Damon Smith (US)
I Walk, dir Jørgen Leth, prods Sigrid Dyekjaer, Jacob Thuesen (Den)
The Classroom, dir Lea Hjort Mathiesen, prod Sara Stockmann (Den)