AUGUST 29 UPDATE: Universal's action sequel opened on $49.3m in China, where Fox's Ice Age: Collision Course delivered $42.5m.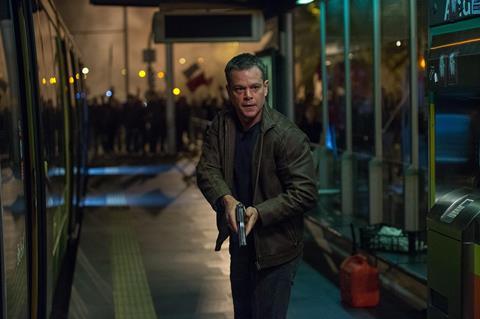 UNIVERSAL PICTURES INTERNATIONAL
UPDATE: Powered by a six-day $49.3m start in China from 6,245 sites that was the biggest of the franchise, Jason Bourne shot to a confirmed $56.2m from 62 territories for $197.7m.
The action release was forecast to become the biggest international performer of the franchise on Monday, when it is expected to overtake The Bourne Ultimatum's $216m. The worldwide tally stands at $347m.
The film also arrived in Mexico on a chart-topping $1.5m from 710 sites, while France posted the best holdover on $1.3m for a 19-day tally of $8.4m.
Latest results put Jason Bourne on $27.6m in the UK, $19.1m in South Korea, $14.9m in Australia, $8.4m in France, $6.8 in Germany, $5.9m in Spain, $4.8m in the Netherlands and $4.5m in Taiwan.
The final four releases are set for Greece, Italy and Russia this week and Japan on October 7.
Illumination Entertainment's The Secret Life Of Pets hopped to a further $24.9m from 57 territories for $371.6m and $724.9m worldwide.
The family smash enjoyed the biggest August opening weekend for an original animation in Brazil on $4.4m and also scored number one debuts in Indonesia on $1.1m and the Philippines on $1m.
After a record-breaking debut in Russia, Pets added $4.8m for $24.4m after two sessions and grossed a further $2.9m in Japan for $31.1m after three. The film ranks number one in France, where it produced $1.6m for $20.3m after five.
There are seven territories to go including Singapore this week and Australia and Malaysia on September 8.
Led by a $1.1m bow in the UK, Blumhouse and Platinum Dunes' The Purge: Election Year took $2.4m from 18 territories for $26.6m to overtake the $24.8m lifetime total of The Purge.
The horror film held well in Mexico on $904k for a ten-day tally of $3m. A pair of franchise-best debuts in Colombia and Chile resulted in $215k and $111k, respectively. Election Year arrives in Germany on September 15 and Brazil on October 6.
New Line, Warner Bros and Universal's Central Intelligence opened in its final four markets and took $1.7m from 29 for $85.2m following a $1.3m French debut.
Laika Entertainment's Kubo And The Two Strings has amassed an early $2.7m from its 15 territories and opened in Spain on $368k and Peru on $155k.
FOX INTERNATIONAL
UPDATE: Ice Age: Collision Course crossed the $300m mark at the overseas box office thanks to a $49.1m weekend from 58 markets for $305.6m.
The animated sequel posted the biggest opening weekend for a non-local animation in China on $42.5m and a chart-topping $4.5m debut in Italy.
Mike And Dave Need Wedding Dates and Absolutely Fabulous: The Movie stand at $21m and $30.1m, respectively.
Cuerpo de Elite debuted in Spain on $1.4m from 370 sites and Mechanic: Resurrection opened day-and-date with North America in the high-piracy market of Russia on $1.4m from 1,054.
WARNER BROS PICTURES INTERNATIONAL
UPDATE: With no new openings, Suicide Squad grabbed a further $20.1m from 65 territories for $353.7m.
The DC Entertainment adaptation retained the top spot in Germany with a $2.4m second weekend for $11.2m and added $1.5m in Italy for $10.7m after three weeks.
In the fourth weekend, Brazil added $1.9m for $31.6m, the UK $1.7m for $40m, and Australia $1.5m for $23.1m.
France delivered $1.2m for $16.9m and Mexico $1.1m for $25.4m, also after four.
The final release comes in Japan on September 10.
Lights Out scared up $9.9m from 55 territories for $60.5m following a strong $3.9m debut in South Korea to chart second behind local film The Tunnel.
New Line's horror also opened in France with $1.6m from its 190 screens and took $729k and $718k in the UK and Spain, respectively, for local tallies of $3.3m and $3m.
Landing in the UK with $1.2m from 486 screens, War Dogs posted a $5.5m second overseas weekend from 41 markets for an early $15.2m, ahead of its release in Mexico this week.
The Legend Of Tarzan stands at $228.7m and romance breakout Me Before You $141.1m.
PARAMOUNT PICTURES INTERNATIONAL
Racing into 12 new markets, Ben-Hur whipped up $6.3m from 35 markets for an early $21.8m.
Paramount-MGM's remake posted holdovers of $1.4m for $4.4m and $1.1m for $4.9m in Brazil and Mexico, respectively, as Australia delivered the biggest debut of the weekend with $789k from 226 cinemas to chart fourth.
Star Trek Beyond phased to $4.7m from its 51 markets for $92.1m after opening in four new markets.
South Korea added $1.6m for a local tally of $8.1m and France recorded a $1.1m second weekend for $4m to date. It opens in Brazil and China next weekend.
Teenage Mutant Ninja Turtles: Out Of The Shadows opened in its final market of Japan on a $1.6m debut from 307 sites, and now stands at an international tally of $160.5m.
STX ENTERTAINMENT
UPDATE: Bad Moms partied to a confirmed $6.3m from its 46 markets for $28.7m overseas and a global haul of $124.1m.
The R-rated comedy was the best new opener in the UK on $1.9m from 464 venues to chart third, while it stayed top in Australia on $1.5m in the third weekend for $8.3m.
Bad Moms arrived at number five in Mexico on $853k and debuted at number one in New Zealand on $402k.
It is scheduled to open Russia this week, followed by Germany on September 22 and Italy on October 6.
WALT DISNEY STUDIOS MOTION PICTURES INTERNATIONAL
UPDATE: Finding Dory swam to a $7.5m weekend from its 19 territories for $451.2m to date and $930.8m globally.
According to Sunday estimates, the Pixar animation posted chart-tipping bows of $1.4m, $600k and $400k in Sweden, Norway and Denmark, respectively, while it retained the top spot in the UK as it reached a local tally of $46.8m. Japan remains the lead market on $62.2m ahead of openings in Greece and Turkey this week.
Landing in Germany on $300k, Pete's Dragon flew to $2.9m from its 23 territories for $21.9m. It opens this week in Malaysia, Singapore, Uruguay and Paraguay.
The Jungle Book added $1.3m for $17.5m after three weeks in play in Japan, and stands at $597.6m. The BFG has amassed $41.8m.
SONY PICTURES RELEASING INTERNATIONAL
UPDATE: Surfacing in 12 new markets, The Shallows bit into a further estimated $5.8m from its 71 territories for $38.5m.
Its best debut came in Italy with $882k from 264 screens, followed by preview-boosted debuts of $660k and $563k in Brazil and Germany, respectively. France added $825k in the second weekend for $2.8m.
Ghostbusters captured $4.8m for $92.7m. South Korea posted a $1.8m debut, including previews, while the reboot fell only 35% in Japan with $1.5m for $8.1m.
Creeping into seven markets day-and-date with North America, Don't Breathe recorded a $1.9m international debut. Almost half of that came from a $931k bow in Russia from 1,014 screens. The horror opens in Australia and Spain this week.
Sausage Party stands at an early $8.7m from its 16 markets with a release in the UK to come this week.
ASIAN TITLES
From its three territories, Showbox's The Tunnel travelled to an estimated $5.7m for $44.5m to date, according to ComScore.
Media Asia's police thriller Line Walker grossed an estimated $4.8m from its six territories for $84.2m so far, as Train To Busan, sold internationally by Contents Panda (NEW), added $3.4m from its six territories for $86.4m.
Lotte Entertainment's historical melodrama The Last Princess stands at $36.8m in South Korea following a $2m fourth weekend, while Le Vision Pictures' Time Raiders took $2.1m from its four territories for $141.8m.
LIONSGATE INTERNATIONAL
Nerve grossed an estimated $3.1m from its 32 markets for $10.8m so far. The social media thriller opened in France with a preview-boosted $1.4m and in Brazil with $552k from 323 screens.
It opens in Australia, Mexico and Norway next weekend, with releases in Germany (Sept 8), Russia (Sept 15), Netherlands (Sept 22) and Belgium (Oct 5) still to come.
UPDATE: Now You See Me 2 grossed $2.1m from 55 markets or $258.9m. The mystery sequel arrived in Germany on $768k including previews and ventures into its last markets of Japan and Germany-speaking Switzerland this week.