Controversial culture minister announces new film fund aimed at boosting southern Israel.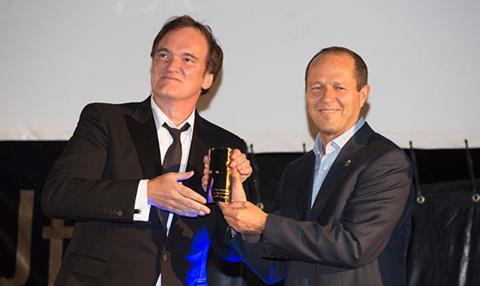 The 33rd Jerusalem Film Festival (JFF) got off to a rowdy start on Thursday as Israel's controversial minister for culture and sport Miri Regev took to the stage during the opening ceremony amid boos and jeers from the audience.
"It's great to get such a nice welcome from so many nice people," commented the minister, riding the storm.
Undeterred by the negative chorus, she went on to welcome the festival's guest of honour Quentin Tarantino (pictured top with Jerusalem mayor Nir Barkat) and Spanish actress Emma Suarez, star of the opening film Julieta.
Regev also took the opportunity to announce the creation of a $3.8m (ils15million) film fund aimed at encouraging local and international productions to shoot in Israel's impoverished south.
The new funding, she said, was in addition to existing available cinema funds worth roughly $20m a year (ils 80m).
"This is an extraordinary film investment aimed at encouraging film-makers from across the world to shoot their films against the wonderful landscapes of the Negev Desert and enable directors from the social and geographic periphery to touch upon social issues that are marginalised from the mainstream discourse," she said.
The minister drew more boos and jeers, however, when she started to discuss her commitment to advancing Sephardic culture within Israel as well as the recent killing of a teenager living in a West Bank settlement.
"Do you understand why we're booing," said one member of the audience. "It's because she's mixing politics and culture and this is not the place."
"Get on with the film," yelled other spectators.
Regev has courted controversy since her appointment last year for her heavy-handed approach and campaign to re-allocate spending away from the cultural hub of Tel Aviv to the provinces.
Her comments that artistic works criticising Israel should not receive state backing and attacks on artists who refuse to perform in Israeli settlements in the West Bank have also raised alarm bells within Israel's mainly left-wing cultural communities.
The Jerusalem Film Festival runs July 7-17.