Matan Yair's Scaffolding [pictured] and Keren Yedaya's Red Fields were among the winners at the 11th edition of the event.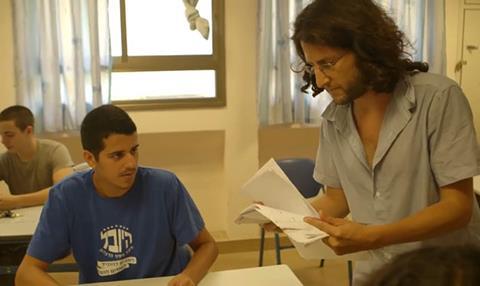 The winners of the 11th edition of Pitch Point at Jerusalem Film Festival (July 7-17) have been revealed, with Matan Yair's Scaffolding taking the $5,200 Van Leer Award.
The drama depicts a 17-year-old student whose life is thrown into turmoil when his literature teacher and role model commits suicide.
The jury, which included Dylan Leiner of Sony Pictures Classics, Vanessa Saal of Protagonist Pictures and Remi Burah of ARTE France Cinema, commended the project for its "passion and inspiration" that will help it "cross all borders". The film already has support from the Israeli Film Fund and the Polish Film Institute and was produced by Gal Greenspan, whose previous projects include Tom Shoval's Youth.
The event, aimed at connecting Israeli productions with international partners, presented the $17,000 Cinelab award to Ofir Graizer's The Cakemaker, which is produced by 2012 Haggiag award-winning producer Itai Tamir (Sharqiya).
The work-in-progress, about a young German baker having an affair with a married Israeli man who subsequently dies in a car crash, receives the funds to put towards its post-production budget. The jury commented that the film was "relatable but also extremely complex" despite its "modesty of means".
Further work-in-progress title Montana, the debut feature of casting director Limor Shmila (Big Bad Wolves, A.K.A. Nadia), has been awarded the $4,400 Wouter Barendrecht – Lia Van Leer Award towards its post-production costs.
United Channel Movies (UCM) production trio Chilik Michaeli, Avraham Pirchi and Tami Leon are producers on the project, which follows a 30-year-old woman who returns to her hometown after discovering her beloved grandfather has passed away.
The $5,500 YAPIMLAB award – presented in participation with the Turkish screenwriting lab – went to Red Fields, by Cannes Critics' Week-winning director Keren Yedaya of Or (My Treasure) fame. The film is a revival of 1986 Israeli anti-war musical Mami and is being produced by Yedaya's That Lovely Girl producer Marek Rozenbaum.
Israeli singer Neta Elkayam is set to play the titular lead role.
Michael (Mysh) Rozanov's Neon Sky – also from the UCM production trio – took the $7,700 New Fund for Cinema and Television Award, which is presented to a film-maker who gives voice to the social and geographic periphery of Israel. The fantasy project sees a lonely young man develop a strong friendship with a ghost who he accidentally reawakens while working in an old office building.
A Special Jury prize was presented to director Ram Nehair and producer Yifat Prestelnik for the work-in-progress black romantic comedy Nils, about a gifted classical musician rehabilitating into society after years in a mental institution who falls for a girl suffering from an eating disorder. The jury noted that they were impressed by the project's originality, and therefore will use their networks to help finish the film.