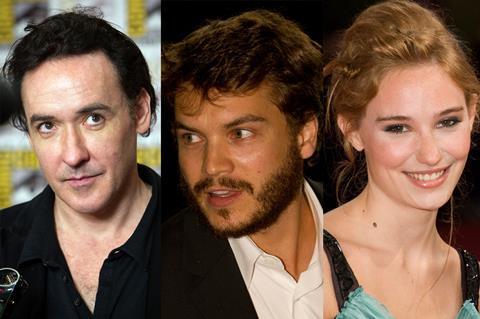 John Cusack has joined the cast of western Never Grow Old alongside Emile Hirsch, Deborah Francois and Antonia Campbell-Hughes.
Being John Malkovich actor Cusack co-stars as malevolent villain Dutch Albert with Hirsch (Lone Survivor) in the lead role as the reluctant hero Patrick Tate. Shoot has been underway in Ireland since November 6.
Launched by Metro International Entertainment at the AFM, the film is written and directed by Ivan Kavanagh (The Canal). Rezo Films has taken French-speaking territories.
The film was developed by Ripple World Pictures with the assistance of Creative Europe and the Irish Film Board who also provided production finance for the project.
In Never Grow Old an undertaker [Hirsch] faces a moral dilemma when a ruthless gang of outlaws terrorises his sleepy frontier town: doe he profit from the violence to provide for his family or defeat the outlaws before they turn on him and his loved ones?
The film is produced by Jacqueline Kerrin and Dominic Wright of Ripple World Pictures in conjunction with Nicolas Steil of the Iris Group and Jean-Michel Rey of Rezo Productions.
Cofiloisirs is providing cashflow. The film is further supported by Quickfire Films and the Luxembourg Film Fund, along with Eurimages and the Broadcasting Authority of Ireland (BAI).
Metro International's slate includes Journey's End starring Sam Claflin, Paul Bettany, Asa Butterfield, Toby Jones, Tom Sturridge and Stephen Graham, and family film Zoo with Art Parkinson, Toby Jones and Penelope Wilton. The next film due into production for the sales outfit is thriller Andorra, directed by Fred Schepisi, with an ensemble cast that includes Guy Pearce, Clive Owen, Gillian Anderson and Toni Collette.