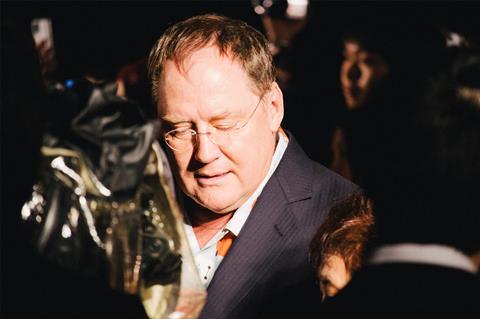 Disney's animation head honcho John Lasseter is to leave the studio at the end of the year after a six-month break following complaints about his behaviour towards women.
Lasseter, who co-founded the Oscar production line that is Pixar Animation and directed Toy Story, Toy Story 2, A Bug's Life, Cars and Cars 2 and earned numerous executive producer credits on Pixar and Walt Disney Animation Studios releases, has assumed a consulting role and will leave the studio on December 31.
According to reports, Pixar and Disney senior figures Pete Docter (Inside Out) and Jennifer Lee (Frozen) are expected to step up.
Disney released a statement on Friday that euphemistically referred to Lasseter's six-month "sabbatical", and trailed that with a statement from The Walt Disney Company chairman and CEO Bob Iger.
"John had a remarkable tenure at Pixar and Disney Animation, reinventing the animation business, taking breathtaking risks, and telling original, high quality stories that will last forever," said Iger.
"We are profoundly grateful for his contributions, which included a masterful and remarkable turnaround of The Walt Disney Animation Studios. One of John's greatest achievements is assembling a team of great storytellers and innovators with the vision and talent to set the standard in animation for generations to come."
Women's groups, activists, Disney employees and indeed the entire industry had been waiting to see how Iger would respond to allegations last November that Lasseter had overstepped boundaries in his dealings with female colleagues at the studio.
In truth the prevailing climate forced Iger's hand and his public stance of zero tolerance will be viewed as his only course of action as #MeToo gathers momentum and Hollywood remains on red alert over allegations of sexual impropriety.
At the time of the allegations, Lasseter, whose official titles are chief creative officer of Walt Disney and Pixar Animation Studios and principal creative advisor for Walt Disney Imagineering, admitted to "missteps" and apologised for causing certain colleagues to feel "disrespected or uncomfortable."
In a statement on Friday the animation guru said, "The last six months have provided an opportunity to reflect on my life, career and personal priorities. While I remain dedicated to the art of animation and inspired by the creative talent at Pixar and Disney, I have decided the end of this year is the right time to begin focusing on new creative challenges.
"I am extremely proud of what two of the most important and prolific animation studios have achieved under my leadership and I'm grateful for all of the opportunities to follow my creative passion at Disney."