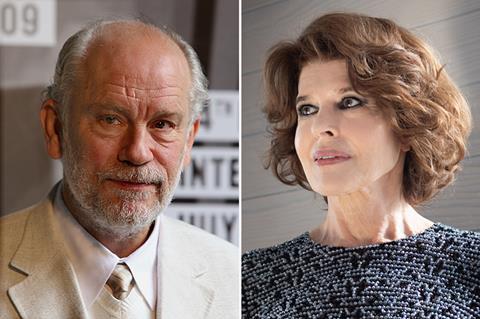 John Malkovich and Fanny Ardant are set to co-star in comedy-drama Mr. Blake At Your Service! about a British businessman grieving the loss of his French wife who unintentionally takes a job as a butler in a chaotic French country manor while on a trip to the site of their first meeting.
The English and French-language comedy-drama marks the directorial debut of popular French writer Gilles Legardinier, who has adapted the screenplay with Luxembourg producer and screenwriter Christel Henon from his best-selling novel Complètement Cramé!. The 2012 work has been translated into 17 languages worldwide.
Malkovich will play the titular Mr. Blake opposite Ardant as the eccentric lady of the manor. Belgian Cannes best actress winner Emilie Dequenne and French actor Philippe Bas also feature in the cast as members of the colourful household staff, spanning a fiery cook, a maid with a disastrous personal life and a resident hermit at the bottom of the garden.
France tv distribution is handling international sales and has launched the project at the AFM.
Malkovich and Ardant previously appeared on the big screen together in 2015 period drama Casanova Variations. They also both featured in the ensemble cast of Michelangelo Antonioni's final feature Beyond The Clouds but did not appear in the same segment.
Legardinier, who is one of France's best-selling authors, began his career in cinema, specialising in pyrotechnics, before moving into writing marketing and press material for companies such as Walt Disney Company, Sony Pictures, Paramount Pictures, 20th Century Fox and Gaumont in France, and then taking up novel writing.
"This is a unique project with a singular story based on a successful IP, performed by well-known great actors and produced by distinguished talents," commented France tv distribution's SVP international sales Julia Schulte and deputy SVP Renan Artukmac.
Henon and Lilian Eche's Luxembourg company Bidibul Productions and France's Superprod are joint producers on the film. The two companies have a track record in quality mainstream features and have worked together in the past on films such as the 2020 children's comedy hit Les Blagues De Toto.
The production is due to shoot in February 2022. Universal Picture International France has acquired French rights and is planning a 2023 release.
"We truly believe in the commercial potential of this feel-good comedy, cross over of generations and cultures, magnified by the talent of the writer and director Gilles Legardinier with whom we fully shared the same core life values he usually likes to convey in his novels," Universal Picture International France said in a statement on the project.