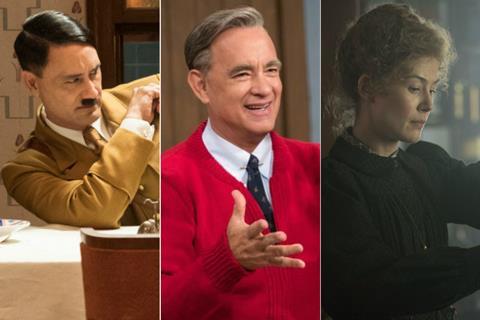 New Zealander Taika Waititi's Hitler satire Jojo Rabbit, Marielle Heller's Can You Ever Forgive Me? follow-up A Beautiful Day In The Neighborhood starring Tom Hanks as US children's TV host Fred Rogers, Marjane Satrapi's Radioactive and Rian Johnson's star-studded murder mystery Knives Out are among the world premieres set to screen at Toronto International Film Festival (TIFF), which runs September 5-15.
TIFF co-heads Cameron Bailey and Joana Vicente announced selections from Galas and Special Presentations today (July 23). Satrapi's drama Radioactive starring Rosamund Pike as the pioneering scientist Marie Curie will close the festival, and according to Bailey sees Pike "bringing the fire, backbone and intelligence to the role it deserves". Amazon Studios has US rights but has not set a release date yet.
The world premieres include: Fox Searchlight's Jojo Rabbit; Sony TriStar's A Beautiful Day In The Neighborhood; Lionsgate's Knives Out; Warner Bros' Death Row drama Just Mercy from Destin Daniel Cretton and starring Michael B Jordan, Jamie Foxx and Cretton regular Brie Larson; STX's drama Hustlers with Constance Wu and Jennifer Lopez; and Goalpost Pictures' I Am Woman, Unjoo Moon's narrative directorial debut about the 1970s musician and activist Helen Reddy that opens Special Presentations and is being sold by WestEnd Films.
Today's announcement contains many films already being tipped as awards season contenders. They include Warner Bros' Joker from Todd Phillips starring Joaquin Phoenix, James Mangold's Ford v Ferrari, Pablo Larraín's Ema from Chile, John Crowley's Donna Tartt adaptation The Goldfinch, and the Netflix trio of Steven Soderbergh's comedy The Laundromat, Noah Baumbach's latest film, now called Marriage Story, and Fernando Meirelles' The Two Popes, which until now had been known simply as The Pope.
Toronto Galas include UK director Roger Michell's family drama Blackbird, starring Susan Sarandon, Justin Kurzel's Macbeth follow-up True History Of The Kelly Gang from Film4 and Screen Australia and starring Russell Crowe and Charlie Hunnam, and Kasi Lemmons' historical race drama Harriet, starring Cynthia Erivo, which is a Focus Features production.
Among the Special Presentations are Canadian filmmaker Atom Egoyan's Guest Of Honour starring David Thewlis and Luke Wilson; Michael Winterbottom's Greed, starring Steve Coogan; William Nicholson's Bill Nighy and Annette Bening family drama Hope Gap; Sebastian Borensztein's adventure comedy Heroic Losers with Ricardo Darin; Drake Doremus's Endings, Beginnings with Shailene Woodley and Jamie Dornan; school embezzlement scandal drama Bad Education from Thoroughbreds director Cory Finlay and starring Hugh Jackman; and Edward Norton's crime drama Motherless Brooklyn which is being released by Warner Bros.
Judy starring Renée Zellweger as Judy Garland is with Roadside Attractions in the US and is included among Special Presentations, as are the Safdie brothers' crime caper Uncut Gems, Wayne Wang's Coming Home Again, and Craig Brewer's Dolemite Is My Name starring Eddie Murphy as 1970s performer Rudy Ray Moore and his titular alter ego.
A number of selections have already been confirmed or tipped to play elsewhere: Alejandro Amenábar's Spanish Civil War saga While At War will open San Sebastian after TIFF, and Armando Iannucci's The Personal History Of David Copperfield gets its European premiere after TIFF as the BFI London Film Festival opening night film. From Cannes comes Bong Joon-ho's Palme d'Or winner Parasite and Céline Sciamma's best screenplay winner Portrait Of A Lady On Fire.
"At a time when politically there's so much conflict, a number of the strongest films are reaching across boundaries and generating empathy in places you might not expect," said Bailey of the selection. "Jojo Rabbit takes us on a journey when you begin to empathise with this boy who's been indoctrinated into Nazi ideology. Destin Daniel Cretton's film Just Mercy with Michael B Jordan and Jamie Foxx is another one: no matter what your political position is on capital punishment, there's no way you can help but feel for these characters. There are a number of [these films] and that's great to see. Perhaps the poster boy is Fred Rogers, and we're glad to have that film A Beautiful Day In The Neighborhood with us as well."
"Among the US studio films we're seeing so many more adult dramas and character-driven films that usually don't come out of the big studios," added Vicente. "So that is an interesting thing."
The emerging filmmakers and films to watch, suggested Bailey, were I Am Woman director Moon, Gabriela Cowperthwaite (The Friend), The Sky Is Pink from Indian filmmaker and TIFF 2014 alumnus Shonali Bose (Margarita With A Straw), and Weathering With You from Makoto Shinkai, the rising Japanese animator behind 2016 hit Your Name.
Vicente noted plenty of anticipated titles from female directors, including A Beautiful Day In The Neighborhood, Harriet, Radioactive, The Sky Is Pink, Portrait Of A Lady On Fire as well as Abominable from Jill Culton and Hustlers, directed by Lorene Scafaria.
As previously announced, the world premiere of Daniel Roher's documentary Once Were Brothers: Robbie Robertson And The Band (Canada) will open the festivities.
The information below is provided by TIFF and is not final or complete and is subject to change.
GALAS
*Opening Night Film
Once Were Brothers: Robbie Robertson And The Band (Can) - world premiere
Dir: Daniel Roher
*Closing Night Film
Radioactive (UK) - world premiere
Dir: Marjane Satrapi
A Beautiful Day In The Neighborhood (US) - world premiere
Dir: Marielle Heller
Abominable (US) - world premiere
Dir: Jill Culton
American Woman (Canada) - Canadian premiere
Dir: Semi Chellas
Blackbird (UK) - world premiere
DIr: Roger Michell
Clemency (US) - international premiere
Dir: Chinonye Chukwu
Ford v Ferrari (US) - Canadian premiere
Dir: James Mangold
Harriet (US) - world premiere
DIr: Kasi Lemmons
Hustlers (US) - world premiere
Dir: Lorene Scafaria
Joker (US) - North American premiere
Dir: Todd Phillips
Just Mercy (US) - world premiere
Dir: Destin Daniel Cretton
Ordinary Love (UK) - world premiere
Dirs: Lisa Barros D'Sa, Glenn Leyburn
The Goldfinch (US) - world premiere
DIr: John Crowley
The Sky Is Pink (India) - world premiere
Dir: Shonali Bose
The Song Of Names (Can) - world premiere
Dir: François Girard
True History Of The Kelly Gang (Aus) - world premiere
Dir: Justin Kurzel
Western Stars (US) - world premiere
Dirs: Thom Zimny, Bruce Springsteen
SPECIAL PRESENTATIONS
A Herdade (Por) - North American premiere
DIr: Tiago Guedes
Bad Education (US) - world premiere
Dir: Cory Finley
Coming Home Again (US-S Kor) - world premiere
Dir: Wayne Wang
Dolemite Is My Name (US) - world premiere
Dir: Craig Brewer
Ema (Chile) - North American premiere
Dir: Pablo Larraín
Endings, Beginnings (US) - world premiere
Dir: Drake Doremus
Frankie (Fr-Por) - North American premiere
Dir: Ira Sachs
Greed (UK) - world premiere
Dir: Michael Winterbottom
Guest Of Honour (Can) - North American premiere
Dir: Atom Egoyan
Heroic Losers (La Odisea De Los Giles, Arg-Sp) - international premiere
Dir: Sebastian Borensztein
Honey Boy (US) - international premiere
Dir: Alma Har'el
Hope Gap (UK) - world premiere
Dir: William Nicholson
How To Build A Girl (UK) - world premiere
Dir: Coky Giedroyc
*Opening Special Presentations film
I Am Woman (Australia) - world premiere
Dir: Unjoo Moon
Jojo Rabbit (US) - world premiere
Dir: Taika Waititi
Judy (UK) - Canadian premiere
Dir: Rupert Goold
Knives Out (US) - world premiere
Dir: Rian Johnson
La Belle Époque (Fr) - North American premiere
Dir: Nicolas Bedos
Marriage Story (US) - Canadian premiere
Dir: Noah Baumbach
Military Wives (UK) - world premiere
Dir: Peter Cattaneo
Motherless Brooklyn (US) - international premiere
Dir: Edward Norton
No. 7 Cherry Lane (HK) - North American premiere
Dir: Yonfan
Pain And Glory (Sp) - Canadian premiere
Dir: Pedro Almodóvar
Parasite (Gisaengchung, S Kor) - Canadian premiere
Dir: Bong Joon-ho
Pelican Blood (Pelikanblut, Ger-Bul) - North American premiere
Dir: Katrin Gebbe
Portrait Of A Lady On Fire (Portrait De La Jeune Fille En Feu, Fr) - Canadian premiere
Dir: Céline Sciamma
Saturday Fiction (Lan Xin Da Ju Yuan, China) - North American premiere
Dir: Lou Ye
The Friend (US) - world premiere
Dir: Gabriela Cowperthwaite
The Laundromat (US) - North American premiere
Dir: Steven Soderbergh
The Lighthouse (US) - North American premiere
Dir: Robert Eggers
The Other Lamb (Bel-Ire-US) - world premiere
Dir: Malgorzata Szumowska
The Painted Bird (Czech-Ukr-Slovakia) - North American premiere
Dir: Václav Marhoul
The Personal History Of David Copperfield (UK) - world premiere
Dir: Armando Iannucci
The Report (US) - international premiere
Dir: Scott Z. Burns
The Two Popes (US) - Canadian premiere
Dir: Fernando Meirelles
Uncut Gems (US) - international premiere
Dir: Benny Safdie, Josh Safdie
Weathering With You (Jap) - North American premiere
Dir: Makoto Shinkai
While At War (Mientras Dure La Guerra, Sp-Arg) - world premiere
Dir: Alejandro Amenábar