Mad Man star will be joined by Rafe Spall and Game of Thrones' Oona Chaplin in feature-length special.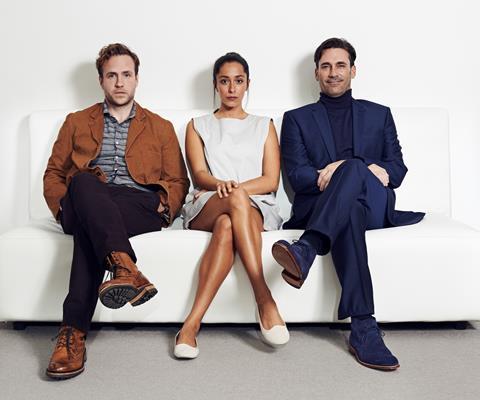 Jon Hamm (Mad Men), Rafe Spall (What If) and Oona Chaplin (Game of Thrones) are to co-star in a feature-length special of Charlie Brooker's Black Mirror, set for broadcast on the UK's Channel 4 in December.
The 90-minute seasonal special will interweave three stories of "Yuletide techno-paranoia". It will start filming in the UK this week.
Hamm's character appears in all three stories contained within the as yet unnamed episode.
The star of Mad Men and Million Dollar Arm said: '"I am beyond thrilled to be a part of the Black Mirror Christmas Special. I have been a massive fan of the show since its inception.
"Its dark humour and intelligent observation of our society and values hooked me deeply as a viewer and I'm honoured that Charlie and the rest of the creative team have asked me to participate in wishing everyone a very Merry Christmas."
Creator Charlie Brooker said: "I'm revoltingly happy that Jon, Rafe and Oona are participating in the horrible pageant that is Black Mirror."
Black Mirror is an anthology series which taps into contemporary unease about the modern world and paranoia about technology.
Black Mirror is produced by Barney Reisz and executive produced by Charlie Brooker and Annabel Jones through their production company, House of Tomorrow, an Endemol company. The Christmas special was commissioned by Rachel Springett for Channel 4 and is directed by Carl Tibbetts.
Endemol Worldwide Distribution (EWD) holds global television distribution rights and has sold Black Mirror to broadcasters in over 80 countries including the US, China, Russia, Australia, Spain, Germany, Italy, Israel, Sweden and across Central and Eastern Europe.