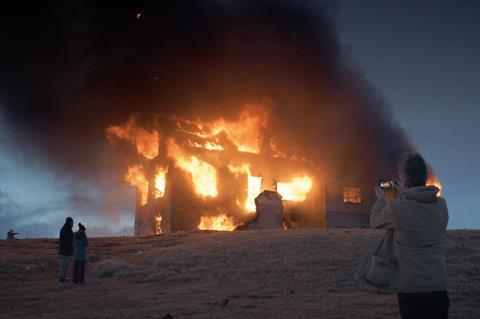 Jour2Fête has taken on international sales for Rúnar Rúnarsson's third feature Echo. He will present work-in-progress footage at Goteborg's Nordic Film Market next week.
Screen can also exclusively unveil the first photo from the film above.
Through 59 scenes, Rúnarsson assembles a portrait of modern society, set in Iceland at Christmas time. Moments include "in the middle of the countryside, an abandoned farm is burning, in a school a children's choir is singing Christmas carols, in a slaughterhouse, chicken are parading along a rail, in a museum, a woman is arguing on the phone, in a living room, a young girl is making her grandmother trying on her new virtual reality headset…"
Sarah Chazelle, Jour2Fête's co-manager, said: "Which we believe [Echo] is Rúnar Rúnarsson's most ambitious film so far. Both his visual and cinematic languages provide us with a rarely seen vision of our modern societies, tender and sharp. We are convinced it has the potential to become a cult film, like Koyaanisqatsi was in the '80s."
Live Rørnes Hide and Rúnarsson produce for Nimbus Iceland, alongside Lilja Osk Snorradottir of Pegasus Pictures. Nimbus' Birgitte Hald serves as executive producer.
Runarsson's past features are Volcano, which premiered in Cannes Directors' Fortnight in 2011; and Sparrows, which won San Sebastian's Golden Shell in 2015.
Runarsson shot Echo with a cast of non-professionals in December 2018. The film will be delivered later this year. For Echo, he is working with his usual collaborators DoP Sophia Olsson and editor Jacob Secher Schulsinger.
Backers include the Icelandic Film Centre, Nordisk Film & TV Fond, RUV, YLE, Jour2Fête, Switzerland's Bord Cadre Films, Iceland's tax rebate, Creative Europe/MEDIA, Media Rental, Nimbus Iceland and Pegasus Pictures.
Runarsson told Screen, "It is different from my previous films in the sense that it is a hybrid film, moving on the boundaries between fiction and documentary… We see people from all levels of society and situations that take place in different parts of Iceland. I have chosen these characters, situations and places to create a window into the diversity of life. Put into the Christmas season, which is an amplifier of emotions and co-human knowledge, it will enable the audience to decode and empathize with the fragments of life being portrayed."
He continued, "By themselves, the scenes either tell a short story, capture a mood or an emotion, but together they form a whole. In a way, I would say that the narrative approach is like picking up stones on the beach. Each stone is special in its own way, but united and assembled, they will form into a mosaic picture, that will function as an echo from postmodern society."