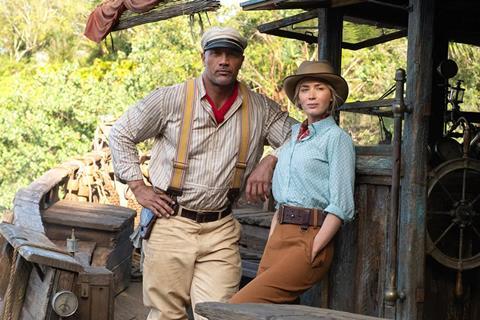 Reflecting ongoing uncertainty over when cinema-going worldwide will return to full force, Disney has set another hybrid release for one of its tentpoles and will launch Jungle Cruise starring Dwayne Johnson and Emily Blunt in cinemas and on Disney+ Premier Access on July 30.
Johnson announced the news on social media on Thursday morning (May 13) prior to Disney's earnings call later in the day. The entertainment giant previously set similar roll-outs for Raya And The Last Dragon, and upcoming Cruella on May 28 and Marvel Studios' Black Widow on July 9.
Jungle Cruise, inspired by the Disneyland ride, will open in cinemas and on Disney+ Premier Access, which levies a $29.99 charge on Disney+ subscribers before it becomes available at no extra cost to platform subscribers several months later.
As the pandemic continues to wreak havoc with exhibition in parts of Europe, much of Latin America, and Canada, the film will be available in the US and internationally where Disney+ Premier Access operates.
Johnson plays the wise-cracking captain of a ramshackle boat who agrees to carry Blunt's British researcher Dr. Lily Houghton down the Amazon in search of an ancient tree with healing properties.
Jaume Collet-Serra directs – he and Johnson are shooting DC Entertainment's release Black Adam scheduled for release in 2022 – and the cast includes Edgar Ramírez and Jack Whitehall, with Jesse Plemons, and Paul Giamatti.
John Davis and John Fox of Davis Entertainment produces with Johnson, Hiram Garcia and Dany Garcia of Seven Bucks Productions, and Beau Flynn of Flynn Picture Co. Scott Sheldon and Doug Merrifield are executive producers.
Michael Green and Glenn Ficarra, and John Requa co-wrote the screenplay from a story by John Norville and Josh Goldstein, and Glenn Ficarra and John Requa.
Separately, Disney+ announced Wolfgang Puck documentary Wolfgang will debut on the platform on June 25.