EXCLUSIVE: Jennifer Jason Leigh, Tom Noonan, and David Thewlis to reprise stage roles in Charlie Kaufman's animation.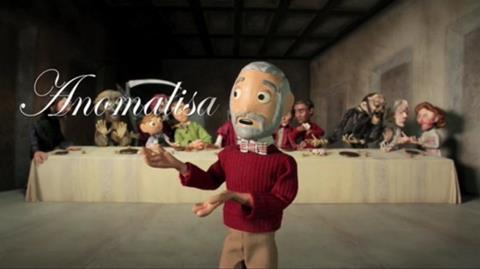 Charlie Kaufman is to co-direct anticipated animation Anomalisa, which HanWay will take to Cannes.
Adapted by Kaufman from his own stage play, Anomalisa will be the director's first animated film. Production is already underway.
Jennifer Jason Leigh, Tom Noonan, and David Thewlis are set to lend their voices to the film, reprising their roles from the original stage production. Composer Carter Burwell who will write the score.
Kaufman is best known for writing Being John Malkovich, Adaptation and The Eternal Sunshine of the Spotless Mind but also directed 2008 film Synecdoche, New York. He will co-direct with Duke Johnson.
The film follows Michael, a man who is struggling with his inability to connect with people. Everyone in the world seems the same to Michael until he meets Lisa.
Kaufman, Johnson, and Rosa Tran produce, with Dino Stamatopoulos, Dan Harmon, James Fino, and Joe Russo executive producing for Starburns Industries along with Keith Calder and Jessica Wu of Snoot Entertainment.
The production has raised significant backing for the project from online crowd-funding site Kickstarter.
Co-director Johnson said: "Our team of imaginationeers here at Starburns Industries are thrilled to bring a new style of animation to an audience for whom animated films are not usually made-adultineers."
HanWay's Thorsten Schumacher added: "Charlie Kaufman is one of the most imaginative and innovative minds in contemporary cinema and we couldn't be more excited to be presenting the fascinating tale of Anomalisa to our distributors. The film is undoubtedly one of the most original and unique projects on the Croisette this year."
HanWay's Cannes festival titles comprise Jim Jarmusch's competition entry Only Lovers Left Alive, Bernardo Bertolucci's The Last Emperor 3D, James Toback's Seduced and Abandoned and Mark Cousins' A Story of Children and Film.
Among the sales slate are Richard Shepard's Dom Hemingway starring Jude Law, Lone Scherfig's Posh, Reykjavik, Carol, Almost Christmas and Errol Morris' documentary The Unknown Known.