First image released from new film about Finnish travelling salesman who meets a Syrian refugee.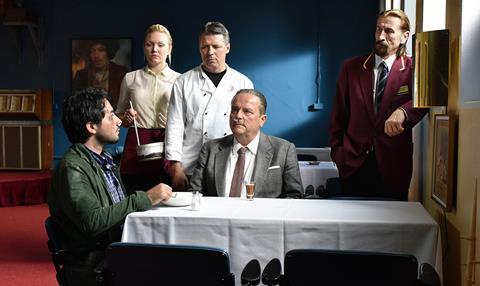 Aki Kaurismaki's new film The Other Side Of Hope (Toivon Tuolla Puolen) has confirmed its Finnish release date of Feb 3. The Match Factory handles international sales.
The 98-minute film, shot in the early autumn in Helsinki, tells the story of a Finnish travelling salesman crossing paths with a Syrian refugee.
The Other Side Of Hope is the second instalment in Kaurismäki's trilogy focusing on port cities, which began with Le Havre.
The lead actors are Sherwan Haji as Syrian refugee Khaled, and Sakari Kuosmanen as Wikström the salesman.
The cast also includes Janne Hyytiäinen, Nuppu Koivu and Ilkka Koivula as personnel of the "Kultainen tuoppi" restaurant owned by Wikström, and Simon Hussein Al-Bazoon playing Iraqi asylum seeker Mazdak. Other cast includes Kaija Pakarinen, Kati Outinen, Tommi Korpela and Tuomari Nurmio.
Key crew includes DoP Timo Salminen, production designer Markku Patila, costume designer Tiina Kaukanen, editor Samu Heikkilä, and sound designer Tero Malmberg.
Kaurismaki writes, directs and produces the film (for his company Sputnik Oy), with Bufo Films also on board the production. Backers include The Finnish Film Foundation, the Finland 100 programme (which supports films to be released in 2017 for Finland's centenary of independence) and The Church Media Foundation, with YLE Co-productions and ZDF/ARTE.
B-Plan Distribution will handle the Finnish release. B-Plan, the distribution arm of producers Bufo, also released Cannes Un Certain Regard winner The Happiest Day In The Life of Olli Maki.