EXCLUSIVE: Frasier actor teams up with Sebastian Foucan for Bharal.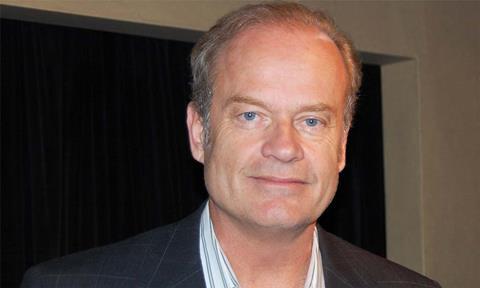 Fledgling UK production outfit BB88 is in Cannes to talk up a slate of movies including revenge drama drama Bharal, which is due to star former Frasier star Kelsey Grammer and parkour pioneer Sebastian Foucan.
Jake L Reid's (The Antwerp Dolls) feature, due to start in early 2018, charts the story of an African refugee who arrives in London to search for his missing sister.
When he uncovers an immigrant sex trade he becomes both a media sensation and a target for a crime syndicate, along with the immigrant community that has taken him in.
Bharal is being lined up as a co-production between BB88, Reid's Liberal Region Productions and Compos Mentis productions.
Also new to the slate is Gate Crash, which will be directed by Laurence Gough (Dr Who). The cast includes Marc Warren (Snatch) and Anton Lesser from Game Of Thrones.
Projects already on the slate include the company's first feature out of the gate: Giantland, now in post-production and starring Hayley Squires from I, Daniel Blake.
BB88 will co-produce with Scott Mann (The Tournament) and Another Bad Headache the revenge story Vigilante; and Break, which director Michael Elkin (The Wee Man) is due to shoot next month starring Bernard Hill and snooker icon Jimmy White.
Finally thriller Kruger marks the directorial debut of actor-producer Craig Conway (Dog Soldiers).
BB88 is run by Goldfinch Entertainment founder and MD Kirsty Bell and actor-producer Craig Conway, and is focused on developing and producing independent films for the Chinese, UK and International markets.
According to the founders, the company is one of the first to receive investment from the China-UK Film Fund.
"We are very excited to announce our full slate here at Cannes," Bell and Conway said in a joint statement. "It has taken a lot of hard work to pull together what we think is a diverse and ambitious set of projects that all have strong international and commercial appeal.
"As a new independent production company, we have been very careful, and very lucky, to choose production partners with strong track records in creating projects on this scale.
"Conversely we are just as excited to bring new filmmakers in to our productions, in keeping with the BB88 company ethos of finding and nurturing talent.
"We are eager to begin production on what will be an extremely busy 12 months, but as always we will have an eye out for new and exciting stories that fit in to our slate and the BB88 ethos."