Honouring two Palestinian filmmakers at the Sarajevo Film Festival, British director Ken Loach branded the US as a "bully" and said cultural happenings supported by the Israeli state should be boycotted.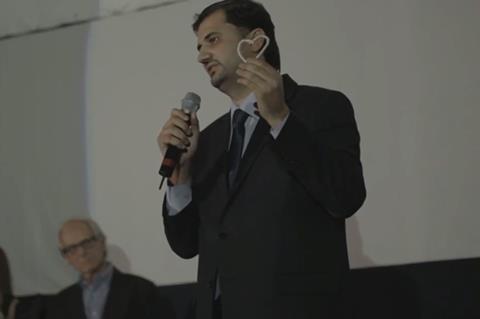 British filmmaker Ken Loach has called for the "boycott of all the cultural happenings supported by the Israeli state" at an awards ceremony honouring two Palestinian directors.
The director of Kes and The Wind That Shakes The Barley gave an impassioned speech at the Sarajevo Film Festival (Aug 15-23) last night, where he presented the Katrin Cartlidge Foundation Award to Palestinian directors Abdel Salam Shehadeh and Ashraf Mashharawi.
Loach branded the directors as "probably two of the greatest filmmakers in the world today, because they are making films in Gaza."
Stirring memories of Sarajevo's four-year siege from 1992-96, Loach said: "I know the people here will know the struggle and bravery you need when you are under siege, and you feel the pain of people of Gaza like no one else. These two people are not only surviving, but are making extraordinary films."
He went on to express "huge frustration and anger" over the on-going conflict in Gaza and said: "My country, to its shame, follows the bully that is the United States. But we are not powerless. We can act together."
It was at that point Loach suggested an "absolute boycott of all the cultural happenings supported by the Israeli state."
"This is film, music, academic contacts. Israel must become a pariah state," he added.
"To go from the sublime to the ridiculous: Israel should not be in the Eurovision song contest.
"And no Israeli football teams should be playing European competitions. I am not sure when Israel became a part of Europe, my geography is not that good."
Before handing over the award, which aims to give new voices and new perspectives in film a chance to be seen and heard, Loach added: "These two film-makers are telling stories that we need to know."
Mashharawi, a Palestinian filmmaker living as a refugee in Gaza, who has won awards for his coverage of the Israeli attack against Gaza in 2008/09, said: "I am taking this Heart of Sarajevo to the people of Gaza because I know that it is the heart of the people who experienced the same thing that we are going through now.
"I am here as the voice of the children who are being killed."
Mashharawi's films mainly involve stories from Gaza and Palestine, but he has also made films focusing on subjects from outside the region including Slavery in Yemen and The Road to Tawerghaa (Libya), which won the First Prize at the One World Festival for Human Rights in Brussels.
Fellow award-winner Abdel Salam Shehadeh also lives in Gaza and has directed more than 15 documentaries such as The Cane, Debris, Rainbow andThe Shadow, which have all played at international film festivals.