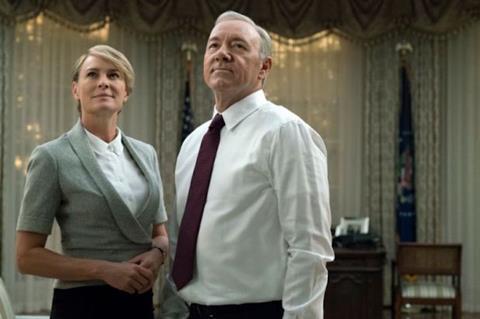 A Los Angeles court has confirmed that Kevin Spacey must pay House Of Cards producer MRC nearly $31m for breach of contract and the company's sexual harassment policy while on the hit Netflix show.
An initial arbitration concluded in October 2020 yet the award of $29.5m in damages for loss of earnings and $1.4m in lawyers' fees and costs was only made public on Monday (November 22).
That was when Los Angeles Superior Court approved a subsequent thee-person panel's rejection of an appeal by Spacey and his production companies Profitt Productions and Trigger Street Productions against the original decision.
MRC, which filed papers to the court to confirm the award, argued that it lost millions in revenue when it fired disgraced actor Spacey following an internal investigation into allegations of harassment from eight anonymous crew members.
Those followed an accusation by actor Anthony Rapp in 2017 that Spacey made unwanted sexual advances. Spacey apologised but after the crew member allegations MRC eventually fired their lead actor when the investigation found he had violated his acting and producing agreements as well as MRC's harassment policy.
All this played out in the run-up to Season 6 of House Of Cards, the show that until that point had starred Spacey as Frank Underwood, a ruthlessly ambitious US politician who eventually becomes president. His sacking forced MRC to rewrite the show and cut the upcoming season starring Robin Wright from a planned 13 episodes to eight to meet the delivery schedule. That, the company argued, cost it millions in lost revenues.
In a statement MRC said, "The safety of our employees, sets and work environments is of paramount importance to MRC and why we set out to push for accountability." Neither Spacey nor his lawyers had issued a statement at time of writing.
In 2019 prosecutors in Massachusetts dropped a criminal case in which Spacey had been charged of sexual assault against an 18-year-old man. (Spacey had pleaded not guilty to all charges.)
Besides being fired from House Of Cards Spacey was cut from Ridley Scott's All The Money In The World in late 2017 and replaced by Christopher Plummer as the billionaire J Paul Getty. Spacey has maintained a low profile ever since save for a series of videos on Christmas Eve in which he affected the voice of Underwood and, last year, appealed to people at risk of suicide to seek help.