The venture has bought six entertainment companies and their combined libraries for $104m, creating content hubs in Los Angeles, London, Toronto and New York.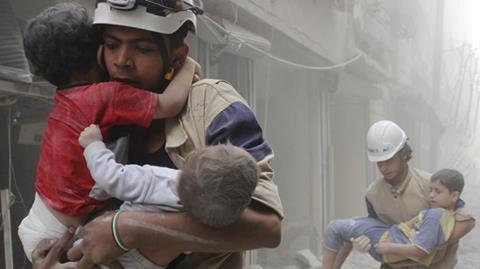 Content Media Corporation is one of six content companies in the deal. Kew Media Group has acquired each one entirely. The other companies are Architect Films, Bristow Global Media, Frantic Films Corporation, Media Headquarters Film & Television, and Our House Media.
It is understood Content remains unaffected heading into Berlin, where sales titles include recent Sundance premiere Cries From Syria (pictured).
Content's management team will stay in place under CEO John Schmidt, who joins the Kew board. CFO Geoff Webb will also serve as Kew's CFO and head of legal and business affairs Erick Kwak will assume the same role at Kew.
The Kew platform will include five companies controlled by Content: Aito Media Oy, Campfire Film & Television, Collins Avenue Productions, Jigsaw Productions, and Spirit Digital Media Limited.
Steven Silver, co-founder of the Blue Ice Group, continues as Kew CEO, while the executive chairman continues to be Peter Sussman, co-founder of Aver Media Finance and former co-controlling shareholder of Alliance Atlantis Communications and CEO of its entertainment group.
After the acquisition is expected to close in March, Kew anticipates having more than 250 properties or ideas in development for "hundreds of hours of producible content" expected over the next year to two years.
Including potential deferred payments payable to vendors if certain 2017 financial targets are met, the aggregate purchase price for the acquisition is projected to rise to about $115.4m.
Kew launched an initial IPO seven months ago on the Toronto Stock Exchange as a special purpose acquisition corporation. At its IPO price of $10 per share, Kew is expected to have an aggregate enterprise value of approximately $142m.
The company will continue to look for niche media companies as acquisition targets and has already identified a number.
"We are content guys – it's what we love, it's what we do," Silver and Sussman said. "There has never been a better time to be in the content business. We are incredibly excited by the companies we have brought together in Kew. It is a perfect platform for growth and further acquisitions."