Festival will also see director Rowan Joffe and novelist SJ Watson present Before I Go To Sleep, starring Nicole Kidman, Colin Firth and Mark Strong.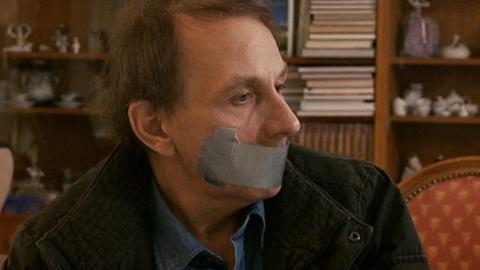 The 34th edition of the Cambridge Film Festival (Aug 28 - Sept 7) is to open with The Kidnapping Of Michel Houellebecq, Guillaume Nicloux's comedy-drama based in part on true events.
It recounts the disapperance of reclusive French novelist Michel Houellebecq during a book tour in 2011. The rumours of his whereabouts led to endless speculation, including a kidnapping. The film, which stars the novelist as himself, will be presented at the festival by Nicloux.
Special guests at this year's festival include writer-director Rowan Joffe and novelist SJ Watson who will present Before I Go To Sleep, an amnesiac thriller starring Nicole Kidman, Colin Firth and Mark Strong.
Skip Kite will present his timely tribute to late politican Tony Benn: Will and Testament, while Andrew Sinclair, director of 1972's Under Milk Wood will also attend the festival. The Dylan Thomas adaptation, which starred Elizabeth Taylor and Richard Burton, will be screened digitally as will Sinclair's Dylan on Dylan and Andy Goddard's Set Fire to the Stars.
Other film highlights at this year's festival include Nick Cave documentary 20,000 Days on Earth; Pawel Pawlikowski's multi-award winning Ida; Leah Meyerhoff's coming-of-age tale I Believe in Unicorns; Kelly Reichart's Night Moves starring Jesse Eisenberg; David Cronenberg's Maps to the Stars; Anton Corbijn's A Most Wanted Man, one of the final performances of Philip Seymour Hoffman; and Hans Petter Moland's revenge drama In Order of Disappearance, starring Stellan Skarsgard.
German focus
Cambridge will include a focus on contemporary German cinema.
Supported by the Goethe-Institut London and German Films, the programme includes Dietrich Brüggemann's Berlinale award-winner Stations of the Cross; Edgar Reitz's Home From Home, a prequel to his famous Heimat series; Jakob Lass's Love Steaks; Jan Ole Gerster's Oh Boy; and Philip Gröning's The Policeman's Wife. Monika Treut will return to the festival to present her latest film, coming-of-age story Of Girls and Horses.
Marking the 50th anniversary of Deutsche Kinemathek, Cambridge will spotlight the early silent films of Kinemathek founder Gerhard Lamprech. Digital restorations and new scores will be presented for In The Slums Of Berlin (1925), Children Of No Importance (1926), People To Each Other (1926), and Under The Lantern (1928).
Catalan titles
Building on two years of celebrating the best of Catalan Cinema, the festival returns with a third programme of films showcasing diverse talent developing in this nation within Spain.
Leading the way is Sergio Caballero's surreal fantasy The Distance, set in an alternate future where people communicate via telepathy and possess telekinetic powers.
Roger Gual's romantic comedy Tasting Menu tells the stories of a group of diners enjoying a final meal in one of the world's best restaurants. Other titles include Hammudi Al-Rahmoun Font's Othello;, Jesus Monllao's Son of Cain; and the second feature from Mar Coll, We All Want What's Best For Her.
Eye On Films
Building on last year's collaboration with Eye on Films, this year's programme includes Tamar Van Den Dop's Berlinale Generation contender, Supernova, which will be released by new film discovery VOD platform FilmDoo, and theatrically through Matchbox Films, in partnership with the festival.
Following Çağla Zencirci and Guillaume Giovanetti's first feature Noor, a docudrama about a teenage runaway taken under the wing of Pakistan's transgender community, the duo will present their Japanese fairytale-inspired follow up, Ningen, at this year's Festival.
Documentary
A documentary strand includes The Case Against 8, a behind-the-scenes inside look into the high profile case to overrun California's controversial ban on same-sex marriage; Alex Gibney's documentary Finding Fela about the life and work of Nigerian musical legend Fela Kuti; Jesse Moss's Sundance prize winner The Overnighters, a 'love thy neighbour' parable set in North Dakota's oil fields which won the Sundance Jury Prize; and Watermark from multiple-award winning filmmakers Jennifer Baichwal and Nick de Pencier, and renowned photographer Edward Burtynsky.
Other docs include Still the Enemy Within, reflecting on the Miner's Strike 30 years on; and erotic filmmaker portrait Peter de Rome: Grandfather of Gay Porn.
Independent US documentarian Lionel Rogosin - who pioneered political cinema, non-fiction partisan filmmaking and docu-fiction - is the focus of a mini retrospective.
Cult classics, shorts and outdoor screenings
A series of retro 3D classics will include Creature From The Black Lagoon (1954) The Mad Magician (1954) and House Of Wax (1953) and will celebrate the comic genius of Peter Sellers with three long-lost short films, the 'Hector Dimwittie Trilogy', more than half a century after they were made, Dearth Of A Salesman, Insomnia Is Good For You and Cold Comfort (1957).
The Short Fusion programme will include Charlie Says by Lewis Arnold, starring Conner Chapman in the film that convinced Clio Barnard to cast the young actor in The Selfish Giant; and Life Lesson, a puppet animation from Toby Froud (the baby from Labyrinth) made in association with Heather Henson.
The 2014 festival is bookended by outdoor events at Grantchester Meadows (23-24 August), pool-side screenings at Jesus Green Lido (14 September) and a three-day weekend event at Bletchley Park (19-21 September) – including special screenings from the BFI's Sci-Fi: Days of Fear and Wonder season.
Cambridge Film Festival has also secured a new partnership with Mubi, which will be the online extension of the festival, screening a selection of films.
CFF 2014's Closing Night Gala will be announced separately.