The star said that a film is on hold and this latest season will "bring a sense of closure to the show".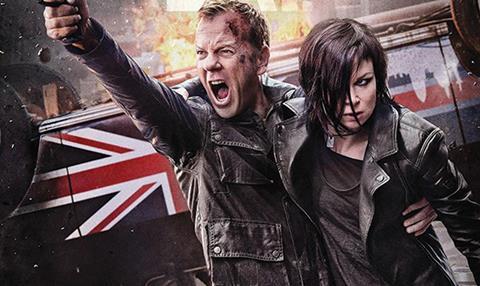 Kiefer Sutherland, who plays Jack Bauer in action series 24, revealed there were no immediate plans for a movie version of the long-running show.
Asked about plans for a film adaptation at the UK launch of 24: Live Another Day, Sutherland said: "We had a look at that. There are multiple reasons why that didn't happen and I don't know all of them.
"20th Century Fox is a very big company. We work with the television side. The film side is a whole other area.
"But in season 8, when [Jack] looks up into that camera and has a 15-minute window to 'go dark' and disappear, that was a setup for a potential movie.
"I think one of the reasons why Howard [Gordon] wanted to do these 12 episodes and where the idea came for him to write was to end it and bring a sense of closure to the show. That was a big part of it.
"So I don't see a film shaping itself around what we're doing right now."
He added that it would be a challenge to try and tell a two-hour version of a 24-hour day "when we're used to having 24 episodes – or 12 episodes in this case".
Best season yet
The conspiracy thriller, which ran for eight seasons from 2001 to 2010 and won two Golden Globes, shifts the action to London for its latest run, 24: Live Another Day.
Returning after four years, Sutherland admitted he was mindful of reviving Jack Bauer, last seen going on the run.
"The last thing you want to do is damage the legacy of a show you've put to bed," he said. "We had put this to bed for a reason: Howard Gordon, our lead writer, was tired. He had written 196 episodes - the equivalent of 100 movies - in an eight-year period.
"That gave me pause for thought. But now we're almost finished I'm so glad, and arguably we've made the best season ever."
Challenges
The actor acknowledged that sticking rigorously to the real-time format had sometimes proved challenging.
"In season two, Jack is stuck on a plane coming back from Central America to the US," he said.
"The flight was two hours, and it was the most boring two hours of 24 we've had because we were in real time.
"The answer to that was to crash the plane in the middle of the flight, because it wasn't working."
The new series still takes place over one day in real time but the 12-episode limit will mean the action can skip a little ahead in time between instalments.
"If I need to get somewhere, I can get on the train or plane at the end of the episode and we can speed the time up to the next episode and carry on in real time from there," he added.
Newcomers
The new series also sees Mary Lynn Rajskub reprise her role as Chloe O'Brian, now wanted for treason by the US for leaking documents, while newcomers include Stephen Fry as the British Prime Minister, Yvonne Strahovski as CIA agent Kate Morgan and Benjamin Bratt as head of operations Steve Navarro.
John Boyega, a former Screen Story of Tomorrow who was recently cast as the lead in Star Wars: Episode VII, also features as a military computer technician who pilots US drones.
The series debuted in the US with 8 million viewers on the Fox network and plays on Sky One in the UK on Wednesdays.