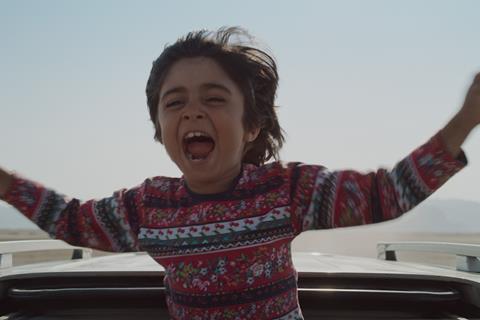 Kino Lorber has acquired US rights to Iranian director Panah Panahi's debut feature Hit The Road and Celluloid Dreams has licensed multiple territories following the road movie's well received world premiere in Cannes Directors' Fortnight last month.
Panahi has served as assistant director on several films by his father Jafar Panahi and was most recently an editor on Cannes 2018 best screenplay winner 3 Faces.
Celluloid Dreams has sold Hit The Road in France (Pyramide Films), UK and Ireland (Picturehouse), China (DD Dreams), Australia and New Zealand (Rialto), Canada (Films We Like), Benelux (Cherry Pickers), Switzerland (Filmcoopi), Austria (Panda), Portugal (Midas), Sweden (Folkets Bio), Norway (Arthaus), and Finland (Cinema Mondo).
Hit The Road will next play in the Main Slate of New York Film Festival this autumn and centres on a family that takes a road trip across the rugged landscape of Iran to drop their older son off at the border in order to leave the country.
Despite the ebullient presence of their younger son, tensions arise and risks involving the elder son's flight become increasingly evident as the family approaches its destination. Over the course of the trip the family bond over memories, grapple with fears of an unknown future, and fuss over their sick dog. Screen's review called the film "thrillingly inventive, satisfyingly textured and infused with warmth and humanity".
Kino Lorber SVP Wendy Lidell negotiated the deal with Charlotte Mickie of Celluloid Dreams. Hit The Road will open in cinemas in early 2022, followed by a VOD release on Kino Now, digital platforms and home video.
"This moving cinematic exploration of a family facing the uncertainties of separation announces a new generation of Iranian cinema," said Lidell. "Panah Panahi's original voice, distinct from yet clearly influenced by the work of his father, shines through in this captivating drama. Hit The Road is an auspicious debut that Kino Lorber is proud to bring to American audiences."
Panahi added, "I am thrilled that Kino Lorber, known for their extraordinary history of arthouse releases, will be releasing Hit The Road. Their passion and expertise in the American market are exceptional and I know they will do a wonderful job of bringing my film to US audiences."