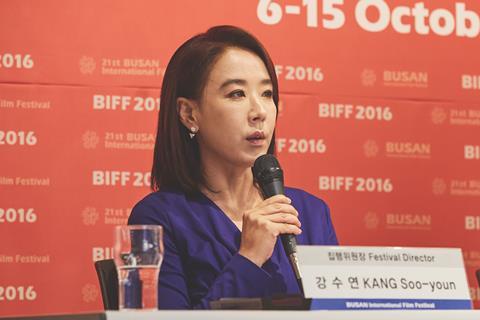 In South Korea, veteran actress and former Busan film festival director Kang Soo-youn died Saturday, May 7.
It was two days after she lost consciousness at home following cardiac arrest. She was 55.
The Korean film industry has organized a funeral committee led by Kim Dong-ho, founding festival director of the Busan International Film Festival (BIFF), now chairperson of the Gangneung film festival.
A memorial ceremony is due to be held Wednesday, May 11 and will be livestreamed on the Korean Film Council (KOFIC) YouTube channel.
A steady stream of mourners are currently being received at Samsung Medical Center in Seoul for five days until the memorial and sending off, in line with Korean tradition for prominent figures' funerals.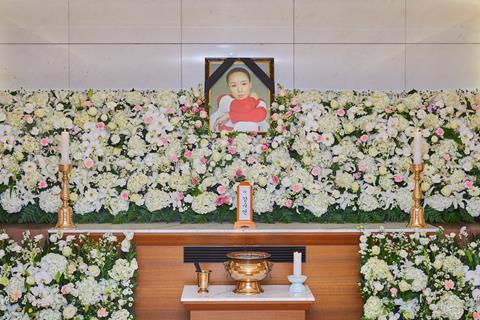 Born in 1966, Kang was an iconic 1980s and 1990s film star in Korea. She was celebrated for being the first Korean to win an acting prize at one of the three most prestigious film festivals of Cannes, Venice and Berlin when she won best actress in Venice with director Im Kwon-taek's period drama The Surrogate Womb (1987).
She also won the best actress award at the Moscow International Film Festival with her performance in Im's Buddhist nun story Come, Come, Come Upward (1989).
After making a name for herself as a child and then teen actor on TV and in films, Kang grew up to star in box office hits such as director Jang Sun-woo's The Road To Race Track (1991), director O Byoung-chul's Go Alone Like Musso's Horn (1995) and director Im Sang-soo's Girl's Night Out (1998).
In 2001, she starred in one of the year's most-watched TV series, Ladies Of The Palace, an epic historical drama about 16th century political machinations led by women behind the royal scenes.
She was named BIFF festival co-director to then-director Lee Yong-kwan in 2015, a move largely seen to be meant to placate the film industry as well as authorities during ex-president Park Geun-hye's blacklisting campaign, which moved against the festival for screening a documentary critical of the regime.
After Lee was ousted in 2016, she became sole director of the festival for two years with the retired Kim returning to join her as chairman. They resigned together in August 2017.
Kang most recently acted in Train To Busan director Yeon Sang-ho's upcoming Netflix original film Jung_E, almost a decade after her last starring role in Kim's short film Jury (2013).