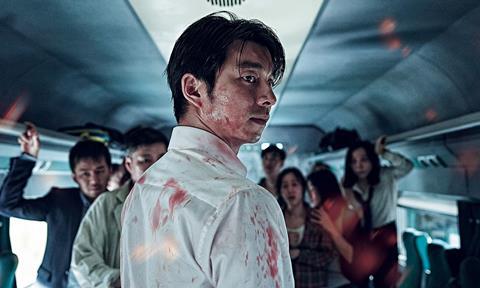 South Korean film industry exports went up by 17.5% last year, according to a 2017 market analysis published today by the Korean Film Council (KOFIC).
Exports totaled $118.8m with completed films taking in $40.1m, a sum down 7.2% from the previous year.
In contrast, export of services such as VFX and DI almost doubled to $78.1m, with demand for services on large-scale Chinese films at a steady flow.
The government-funded agency noted the most remarkable recent trend was global OTT buyers of Korean films – e.g. Netflix picking up worldwide rights to Train To Busan and Pandora and Amazon Studios picking up The Handmaiden for the US in 2016. In 2017, Netflix snapped up North-South Korean action thriller Steel Rain and Yeon Sang-ho's sci-fi thriller Psychokinesis before local release.
Asia accounted for 53.2% of sales, North America for 12.1%, Europe for 9.3%, Central and South America for 3.8%, Oceania for 1%, the Middle East for 0.4% and "other/worldwide" for 20.1%.
The digital online market grew 5.7% to $402.4m (KW436.2bn) last year. Television VOD made up for 81.2% of this, with growth at 5.9%. Internet VOD sales went up 10.8%, although "package" (or bundled) sales are decreasing.
Box office gross totaled $1.6bn, up 1.6% from the previous year, with admissions totaling 2.2 billion admissions, up 1.3%. Of admissions, local films accounted for 52% and foreign films accounted for 48%.
Of the 376 films that saw theatrical release in 2017, KOFIC analysed 83 commercial films and saw they had an average 4.7% return on investment. The agency found certain high-budget films had lacklustre box office results that brought the return on investment rates down, but low and mid-range budget films have made it into the black with a 0.1% return on investment.
Gender bias
Last year, the government-funded agency also started analysing 'commercial films' for their gender make-up. By their count, of 83 films, only seven (8.4%) had female directors, 17 (20.5%) had female producers, 15 (18.1%) had female writers and 4 (4.8%) had female cinematographers.
Noting that film-related university departments and institutions in South Korea have a "nearly 50:50" gender ratio and that the 2017 Seoul Independent Film Festival's selection had 47% of its films directed by women, KOFIC has denoted the gender inequality seen in commercial filmmaking "highly abnormal."