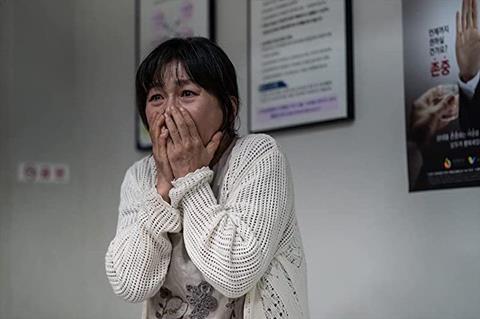 Oh-Seung Kwon's Korean thriller Midnight has won the best feature award at UK genre festival Grimmfest, which ran as a hybrid in-person and online event this year.
The film, which debuted in South Korea in June this year, centres on a deaf mother and daughter who interrupt a serial psychopath as he attempts to claim his next victim, only to finds his wrath redirected toward them instead. Korean sales firm Finecut is handling sales on the title.
Scroll down for the full list of winners.
The award was chosen by a jury consisting of Stewart Bridle, managing director of the UK Horror Channel; Canadian director Justin McConnell; US actor and director Natasha Halevi; journalist Kat Ellinger; and UK actor and director Dominic Brunt.
Other titles awarded by the jury included best director, to Vanya Peirani-Vignes for French thriller Blast, starring Nora Arnezeder; while August Maturo won best actor for his role in Slapface, and Anna Cobb won best actress for We're All Going To The World's Fair.
Mark O'Brien won best screenplay for US religious horror The Righteous, which he also directed.
The 13th edition of the festival ran from October 7-10 at the Odeon Great Northern cinema in Manchester, with the online screenings from October 14-17.
Grimmfest 2021 awards
Best feature – Midnight
Special mention – The Sadness
Best director – Vanya Peirani-Vignes, Blast
Special mention – Jane Schoenbrun, We're All Going To The World's Fair
Best actor – August Maturo, Slapface
Special mention – Brendan Sexton III, Faceless
Best actress – Anna Cobb, We're All Going To The World's Fair
Special mention – Ki Joo Jin, Midnight
Best screenplay – Mark O'Brien, The Righteous
Special mention – Jim Cummings, P.J. McCabe, The Beta Test
Best cinematography – Scott McClellan, The Righteous
Special mention – Pierre Tsigaridis, Two Witches
Best production design – Hotel Poseidon
Special mention – The Guest Room
Creative achievement – Alexandre Bustillo, Julien Maury, The Deep House
Special mention – Aaron Bartuska, For Roger
Best score – Barry J. Neely, Slapface
Special mention – Pierre Tsigaridis, Two Witches
Best scare – Two Witches
Special mention – Alone With You
Best SFX – Faceless
Special mention – The Sadness
Audience award – The Sadness
Special mention – Night Drive
Achievement in genre cinema – AJ Bowen
Lifetime achievement award – Dee Wallace