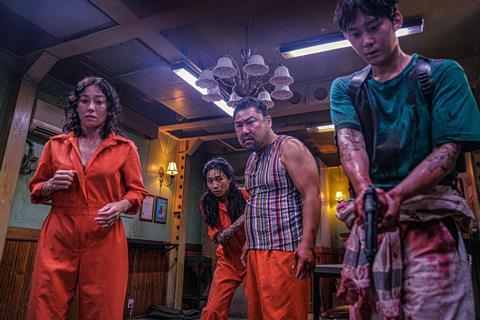 Korean action-thriller Project Wolf Hunting is heading to two US streaming platforms in a co-exclusive deal secured by distributor Well Go USA Entertainment.
The film, written and directed by Kim Hongsun, will debut on Cinedigm-owned horror channel Screambox and Well Go USA's martial arts and action channel Hi-YAH! in May 2023.
It premiered at Toronto in the festival's Midnight Madness section in mid-September before receiving a theatrical release in South Korea on September 21 through The Contents On and in North America on October 7.
Set on a cargo ship transporting dangerous convicts from Manila to Busan, it follows the unleashing of a sinister force onboard when the prisoners start a riot.
The cast includes Seo In-guk (Pipeline), Jang Dong-yoon (TV's Search and Mr. Sunshine), Choi Guyhwa (Train To Busan), Jeong So-min (TV's Alchemy of Souls) and Sung Dong-il (The Cursed).
The deal was negotiated by Jason Pfardrescher on behalf of Hi-YAH! and Well Go USA and Selin Kilic on behalf of Screambox and Cinedigm.
"This co-release on Hi-YAH! and Screambox ensures that loyal fans of each will get to revel in this boundary-pushing wild ride of a film," said Pfardrescher, EVP of digital and theatrical distribution at Well Go USA.
Korean sales agent Finecut sold North America rights for Project Wolf Hunting to Well Go USA ahead of its Toronto premiere. Adding to a slew of further deals before its September debut, the film more recently sold to territories including Australia and New Zealand (Umbrella Entertainment), Singapore, Malaysia, Brunei, Indonesia and Vietnam (Clover Films) and the UK (Kaleidoscope Home Entertainment) ahead of AFM.
The feature has also played in competition at France's L'Étrange Festival, Fantastic Fest in Austin, Beyond Fest in Los Angeles, Sitges International Fantastic Film Festival and San Sebastian Horror and Fantasy Film Festival.