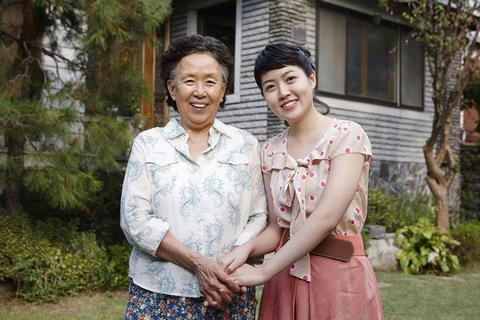 Leading South Korean studio CJ Entertainment announced its aim to produce and release a minimum of 20 local films overseas in more than 10 languages annually by 2020.
This would surpass its domestic output of 10-15 films per year in Korea.
At a press event in Seoul today [Sept 13], Tae-Sung Jeong, CEO of CJ Entertainment (a.k.a. CJ E&M Pictures) outlined the company's goals, saying that with South Koreans watching 4.17 films per capita yearly and "essential audiences" in their 20s and 30s dropping with population declines, the local market has plateaued at around $1.8bn a year.
The company's forte is in localised remakes – as in the case of Miss Granny. Although CJ's sales of the original film to 16 countries and its remake rights to three countries came to $354,500 (KW400m), the box office for the localised remakes they released in China, Vietnam, Japan, Thailand and Indonesia reached $69.1m (KW78bn).
But they are also developing new intellectual properties for specific local markets as well as global projects such as Bong Joon Ho's Snowpiercer, which used international talent financed by CJ.
In the US market, they are looking get away from the "studio-dependent structure" and are targeting low and medium-budget productions of $4.4m-$35.4m.
Making a note that non-Caucasian population – Hispanics, African-Americans and Asian-Americans – make up 38% of the country but account for 49% of ticket sales, the company is looking to develop more films for those audiences.
For instance, they are currently developing two more Miss Granny remakes – an English-language version with Tyler Perry Studio, targeting the African-American market, as well as a Spanish version with 3Pas Studio targeting the Hispanic market.
The latter is part of the company's planned push into Mexico and by expansion, the Latin Americas as well.
CJ is also in development on remakes of The Housemaid, expanding on the Korea-Vietnam co-production from 2016 directed by Derek Nguyen, and The Vanished, am omnibus drama based on the French original property which was published in Korea this August.
China
As for China, where Korean cultural content is facing a freeze, Jeong said the company is working and waiting, developing stories with directors, actors and tech crew (i.e. in the highly sought-after areas of Korean CGI, action and production design.)
"The China market is very difficult. Especially recently with the worsening of the political situation. Despite that, we have a lot of employees preparing there and I visit quite often. You know how even if it always seems like winter, spring does come around. I believe it will at some point. So we are preparing for that time because of the future potential of the market. China is a country that sees 10 million admissions a day," he said.
So far CJ has been launching businesses in Vietnam – where it has so far made eight films; China, where it has made five; the US and Indonesia where they made four each; Turkey, three; Japan, two, and Thailand one.
The company has 80 employees working in international and has in the past decade been involved in 27 local films abroad (including ones set for release within this year), and has done or is set to do direct distribution on 264 Korean films overseas by the end of this year.