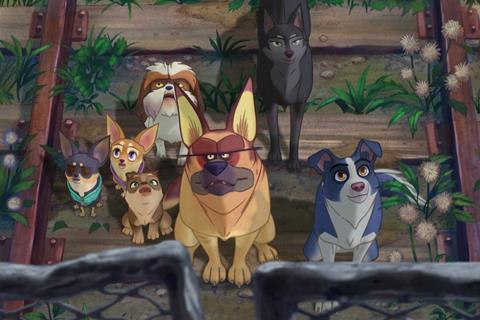 Korean studio NEW and its sales arm Contents Panda have announced a raft of deals on animation Underdog including sales to the US and Canada (Well Go USA), France (The Jokers Films) and China (Fashion League).
Fashion League has taken equity in the film and also picked up rights to a slew of Asian territories including Singapore, Malaysia, Indonesia and Hong Kong.
The film is co-directed by Oh Sung-yoon and Lee Choon-baek, who worked together on Leafie, A Hen Into The Wild, which broke local animation box office records.
Underdog follows Moong-chi, a feisty, playful dog abandoned by his owners, as he joins a pack of strays and comes to terms with his initially unwanted freedom. While evading dog hunters, they head north to a dreamed of place of safety and peace, which turns out to be, as human viewers will recognise, the demilitarized zone between North and South Korea.
The Jokers Films president Manuel Chiche said: "We are very happy to take care of Underdogfor French distribution and to be in business with NEW and Contents Panda. This animated movie tells a lot about being abandoned, human beings, dogs, they all need support and care. This is what the movie is about. And it talks to everyone, in a nice way, and shows the world as it must be, not as a watered-down version, exactly as it must be shown to kids."
The film made its world premiere at the Bucheon International Fantastic Film Festival in July but has been going through further post-production and is set for local release in January 2019.